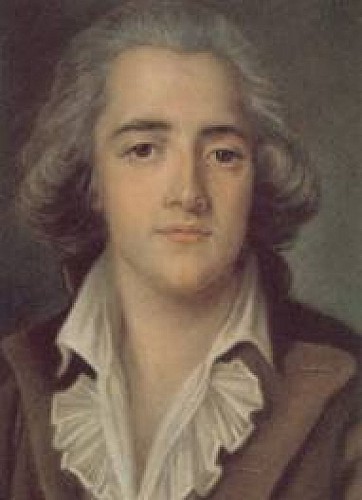 In Chateaubriand's footsteps in Plancoët (grand tour)
Nazareth district was attached to Plancoët as late as 1841. Before then, it was an important hamlet of Corseul, the Roman city. The central rue de l'Abbaye, with its preserved architecture, is one of the oldest streets of the town.
This bank of the Arguenon River is the theater of the first steps of great Romantic author: François-René de Chateaubriand.

François-René de Chateaubriand was born in St Malo on Septembre 4th 1768 and was buried, as he asked, at the Grand Bé, in front of St Malo, July 19th 1848.
Feeble newborn, he spent his early childhood "at Plancoët's fresh air' where his grand-mother, Madame de Bedée placed him in a nanny's care. He stayed there for approximately three years, then it was Saint-Malo and Combourg, Dol, Rennes and Dinan's schools from where, adolescent, he comes to visit his family. He's the witness of his kin's happiness...

This walk follow the circuit that Chateaubriand's mother and grand-mother took between la Bouëtardaye manor, the rented house of Rue de l'Abbaye and Nazareth church.

(These suggested itineraries are given as an indication and don't take the possible evolution of the grounds or the environment into account. The use of these circuits is, therefore, left to the personal responsability of the users, the Office de tourisme disengages itself of any responsability towards the use of the maps and the possible accidents that might occur on the offered itinerary).
7.4 km

max. 80 m

min. 9 m

271 m

-270 m

Altimetric profile

Accessibility
Starting point
Rue de l'Evinais
22130 Plancoët
Lat : 48.5176
Lng : -2.22329
0 m

Notre-Dame de Nazareth Church's square
This church is one of the reasons for the young Chateaubriand's coming...Read more
76 Rue de l'Abbaye 22130 Plancoët
Lat : 48.5175
Lng : -2.22333
0 m

1
We hope you had a lovey time in the foot-steps of this great Romantic author.
Seeing you sson on our paths...
64-74 Rue de l'Abbaye 22130 Plancoet
Lat : 48.5175
Lng : -2.22372
0 m

Ruellan fountain
You are still on the church square. The fountain in front of you,...Read more
178 Rue de l'Evinais 22130 Plancoët
Lat : 48.5176
Lng : -2.22311
0 m

Inside Nazareth Church
Once inside, you find a richly decorated choir as it was fashionable...Read more
178 Rue de l'Evinais 22130 Saint-Lormel
Lat : 48.5178
Lng : -2.22291
0 m

The fountains' path
Going down the steps you arrive in a valley away from the main road. In...Read more
45 Rue de l'Abbaye 22130 Saint-Lormel
Lat : 48.5203
Lng : -2.22761
0 m

Maison Notre-Dame (private property)
In Rue de l'Abbaye, you go by, at n°43, Chateaubriand's grand-mother's...Read more
50-52 Rue de l'Abbaye 22130 Corseul
Lat : 48.5197
Lng : -2.22833
0 m

Source Sassay
In his peregrinations in the nature, Chateaubriand may have come to...Read more
Lat : 48.518
Lng : -2.2305
0 m

View from Brandefert Hillock
In order to breathe a little, we offer you this stop to enjoy, as...Read more
Lat : 48.516
Lng : -2.23235
0 m

Manoir de Monchoix (private property)
From this point, we can see, West of Plancoët, Monchoix manor,...Read more
Lat : 48.5149
Lng : -2.23453
0 m

Manoir de la Bouëtardaye (private property)
This manor is private and is not opened to visits. This is the...Read more
Lat : 48.5041
Lng : -2.24617
0 m

Velléda's rock
You are arriving, after taking a path, by a stream in front of a rock....Read more
Lat : 48.5078
Lng : -2.23681
0 m

Packaging plante Samson
This company with impressive hangars (and with no less impressive...Read more
5 Rue de la Libération 22130 Saint-Lormel
Lat : 48.5178
Lng : -2.22628
0 m