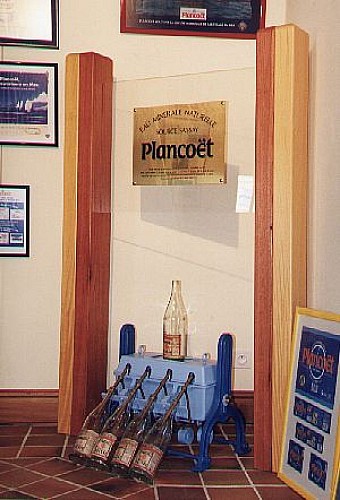 In his peregrinations in the nature, Chateaubriand may have come to quench his thirst to the water from this spring. It's only at the beginning of the 20th century that Doctor Chambrin's finding, then mayor of the village, on his patients lead to this water being categorised as natural mineral water (1928).
A first water plant is created (granite house in front of you) helped by the birth of tourism and need of heatlth (already!).

After the war, a second plant (white building) comes out of the ground to follow the growth of demand, linked to the birth of supermarkets and plastic bottles.
The growth continues with the current plant. Plancoët's mineral water (still and sparkling water since 2010) and Ste-Alix spring water follow their watery path well anchored in their area.

Caution: after this point the itinerary becomes harder. You can also read the rest of the document and go directly to the 11th point without being lost.
Infos techniques
Avenue de Sassay
22130 Plancoët
Lat : 48.518
Lng : -2.2305
0 m