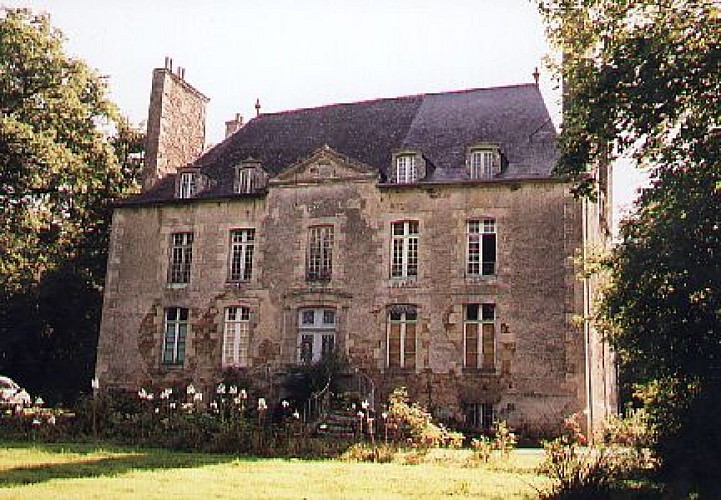 Manoir de Monchoix (private property)
From this point, we can see, West of Plancoët, Monchoix manor, home of happiness which belonged to Antoine de Bedée, called Bedée the Artichoke.

"My uncle's castle, the count of Bedée, was situated a league away from Plancoët, in an elevated and pleasant position. Everything breathed joice there; my uncle hilarity was endless. He had tree daughters, Caroline, Marie and Flore, and a son, the count of la Boistardais, adviser to the Parliament, who shared his heart fulfilment. Mon-Choix was always full of the gentlemen of the area. We played music, danced, hunted; we knew jubilation from dawn to dusk. My aunt Madame de Bedée who was seeing my uncle cheerfully eating away his funds and his income, got justly crossed, but wasn't heard out. On the contrarary, her bad temper increased the good spirits of her family, particularly as my aunt herself was prone to many peculiarities; she always had a quarrelsome hunting dog laying in her fold and a private boar which filled the castle with his grunts. When I arrived from the dark and silent paternal house to this home of party and noise, I felt like being in true paradise. This contrast became more apparent, when my family was based in the countryside. To go from Combourg to Mon-Choix, was going from the desert to the world, from the keep of an old Gaulish baron to the villa of a Roman prince." (extract from Memories of my Life)

Going to step n°9 is going a long way on a rocky path. You can go directly to step n°10 without getting lost story-wise.
Technical information
Avenue de Sassay
22130 Corseul
Lat : 48.5149
Lng : -2.23453
0 m