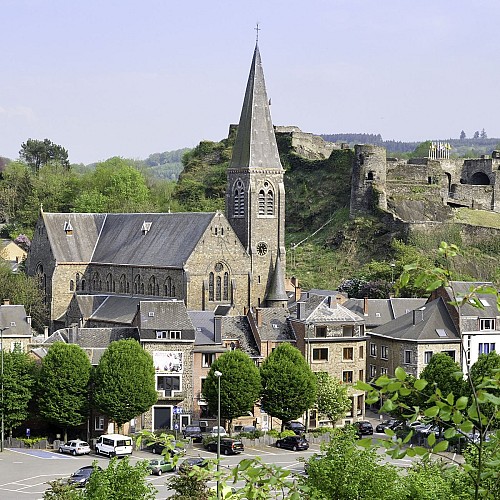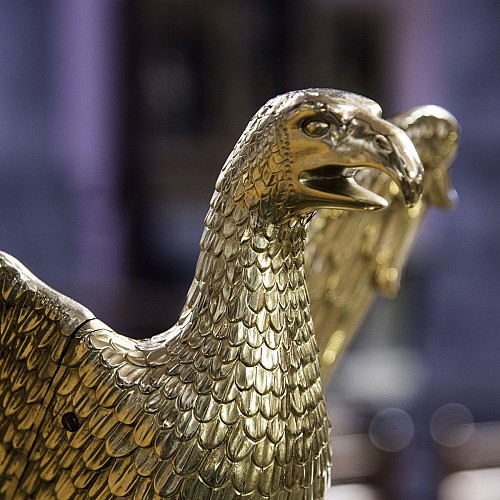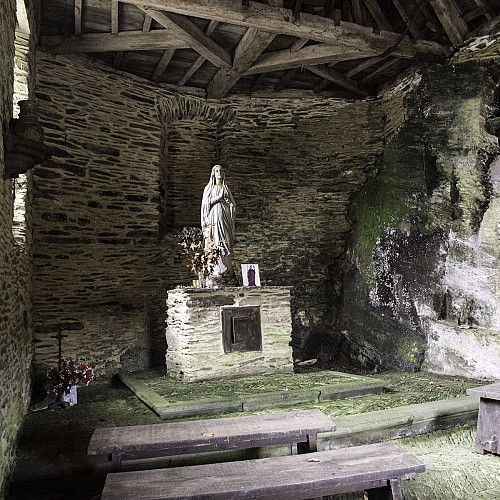 Hoeveel geluk hebben we dat wij zoveel "bouwstenen" in de ondergrond hebben. In dit deel van de Ardennen vinden we vooral schist en zandsteen of een mix van beide. De kerken die in deze rotsen zijn gebouwd, ontlenen er hun bijzondere karakter aan … Dit is een route voor liefhebbers van klimmen.
Deze tour maakt deel uit van zes routes ontworpen door het netwerk Open Kerken, "Van kerktoren naar kerktoren in het hart van de Ardennen": 11 kerken in La Roche-en-Ardenne, Rendeux, Manhay en Tenneville openen de deuren om hun geschiedenis, hun schatten en hun unieke sfeer met u te delen. Originele en inspirerende bestemmingen om met uw gezin al wandelend, fietsend of met de auto te waarderen. Ontdekkingsfiches (aangepast aan kinderen) wachten op u!
47 km

max. 563 m

min. 220 m

1039 m

-1037 m
Starting point
10 Rue Rompré
6980 La Roche-en-Ardenne
Lat : 50.1809
Lng : 5.57718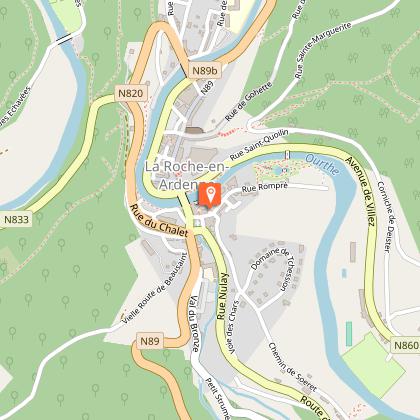 1
Vertrek in de parking naast de Place du Bronze.
Neem de brug naar het noorden, dan onmiddellijk naar rechts (richting Houffalize) en eerst naar links, rue Saint-Quoilin (start op een heuvel met twee haarspeldbochten) tot aan de kapel Ste-Marguerite.
7 Place du Bronze 6980
Lat : 50.1806
Lng : 5.57693
n/a m

Kapel Sainte-Marguerite
Dit aandoenlijk gebouw uit 1600, half uitgehouwen uit de ruwe rotsen,...Read more
2 Rue Sainte-Marguerite 6980 La Roche-en-Ardenne
Lat : 50.1836
Lng : 5.58008

Kerk Notre-Dame – Samrée
De met veel smaak gerenoveerde kerk Notre-Dame in Samrée is zeker...Read more
40 Samrée 6982 La Roche-en-Ardenne
Lat : 50.2086
Lng : 5.6394

Kerk Saints-Pierre-et-Paul – Dochamps
De inwoners van Dochamps herinneren zich nog steeds de millenniumviering...Read more
4 Rue des Frères Germay 6960 Manhay
Lat : 50.2348
Lng : 5.62241

Kerk Saint-Hubert – Bérismenil
De kerk Saint-Hubert, helaas vaak gesloten, heeft zeer mooie meubels...Read more
Lat : 50.1785
Lng : 5.66483

Kapel Saint-Roch – Maboge
Op bijna 7 kilometer van de kerk in Samrée, de officiële parochie,...Read more
17 Maboge 6982 La Roche-en-Ardenne
Lat : 50.1689
Lng : 5.62713

Kerk Saint-Antoine – Warempage
De kerk Saint-Antoine, in het hart van het dorp, combineert op harmonieuze...Read more
Lat : 50.1193
Lng : 5.63839

Kapel Saint-Hubert – Herlinval
Het is in de eerste plaats de omgeving van deze kleine kapel gemaakt...Read more
88 Herlinval 6983 La Roche-en-Ardenne
Lat : 50.1143
Lng : 5.63867

Kerk Saint-Remy – Ortho
Ortho is een zeer oude plaats en de kerk was lang de belangrijkste...Read more
26 Ortho 6983 La Roche-en-Ardenne
Lat : 50.125
Lng : 5.61294

Kerk Saint-Lambert – Buisson
Het dorp Buisson wordt zeer gewaardeerd door wandelaars, fietsers...Read more
25 Buisson 6983 La Roche-en-Ardenne
Lat : 50.1453
Lng : 5.60216

Kerk Saint-Nicolas - La Roche-en-Ardenne
Als parel van de toeristische Ardennen aan het einde van de 19e eeuw,...Read more
27-37 Rue de l'Eglise 6980 La Roche-en-Ardenne
Lat : 50.1829
Lng : 5.5758