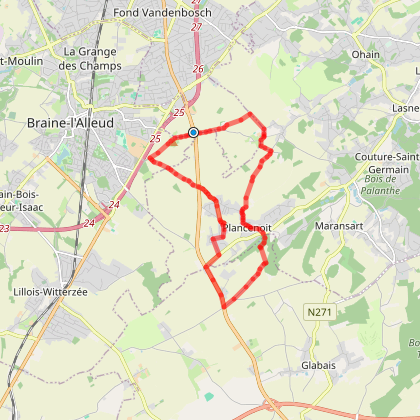 WATERLOO - At the Heart of the Battle
From Braine-l'Alleud to Genappe, Plancenoit to Mont-Saint-Jean, follow in the footsteps of the historic Battlefield of Waterloo, an event that changed the course of destiny forever.

From the Lion's Mound, you will discover a soft and rounded landscape, far from the dreary landscape described by Victor Hugo.... The Duke of Wellington took advantage of this landscape to shelter his men and make it difficult for French troops to advance. You will walk over land once stormed by 35,000 cavalry horses, amidst fire from 500 cannons. Where a violent and bloody battle ensued in which almost 200,000 men fought for the future of Europe on 18 June 1815. Shortly after crossing these evocative fields, you will enter a beautiful undergrowth teeming with life. There you will find Chantelet Farm which once served as a headquarters for the commander of the French cavalry, Marshal Ney. As well as the Ferme Du Caillou that of Napoleon. At the end of the walk, you can see the Goumont Farm (or Hougoumont), once a fortified farm and perhaps the most important part of the story – being as it was the major backdrop for this historic battle.
14 km

max. 140 m

min. 102 m

94 m

-93 m

Altimetric profile

Accessibility