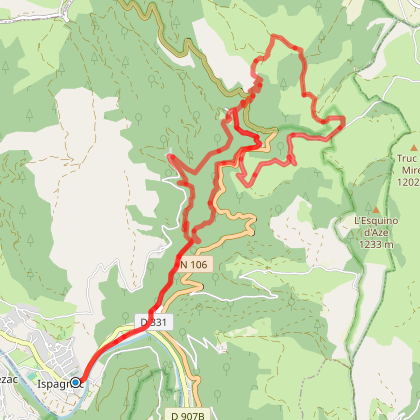 The Bramont Valley (by mountain-bike)
This circuit criss-crosses the Bramont valley, passing through wetlands and sweet-chestnut groves, and villages whose houses were built from limestone and schist.

Mountain-bike route # 6. Exit left from the car park and take the D 907 bis for 500 m, then take on your right a path alongside the river Tarn towards Le Cantonnet. Cross the D 907 bis and take the path on the valley floor to Pradines mill. Go uphill to Lonjagnes. N.B.: Do not enter the hamlet, but fork right beforehand towards Le Marazeil. As you exit Le Marazeil, go downhill on the road to Nozières. Cross the N 106 and take the road opposite towards Les Combettes. Go through the hamlet and continue on the track for about 1.7 km, then turn left onto a very small path to get back to Le Marazeil and Nozières. Cross under the N 106 and go downhill to Pradines mill/Le Cantonnet. Cross the N 106 and take a track along the Tarn to return to Ispagnac.
20 km

max. 0 m

min. 0 m

1129 m

-1129 m

Altimetric profile
Starting point
Lat : 44.3703467
Lng : 3.5378841

Pradines mill
This is one of the eight watermills that used to operate in the Ispagnac...Read more
Lat : 44.381911
Lng : 3.552982

The river Bramont
There are actually two Bramonts! The one that you are cycling along,...Read more
Lat : 44.387369
Lng : 3.557119

Fire salamander (Salamandra salamandra)
This nocturnal animal has large black eyes. On its back, its smooth...Read more
Lat : 44.399583
Lng : 3.574573

Inscription mystérieuse
Transcription du texte gravé sur une façade des Combettes....Read more
Lat : 44.402967
Lng : 3.581369

Les Combettes
Marker 7The village of Les Combettes is built in a natural depression,...Read more
Lat : 44.4026
Lng : 3.580707

Constructing landscapes
Marker 8Did the menhir-builders move in the same landscape that we...Read more
Lat : 44.40742
Lng : 3.576728

The Rocher des Fées
"We were Catholics here, and there were many stories about fées...Read more
Lat : 44.399275
Lng : 3.566601

Alders
"Called vergnes locally, they plunge their roots into the river because...Read more
Lat : 44.387853
Lng : 3.55761
5 informations complémentaires
Access
On the N 106 from Florac towards the Col de Montmirat, then on the D 907 bis towards Ispagnac / Quézac
Advised parking
Car park opposite the pharmacy
Advice
No cycling off-track. You are strongly advised to wear a helmet. Do not forget your repair kit and a small set of tools. Shut all gates and barriers after yourself. Slow down in farms and hamlets.