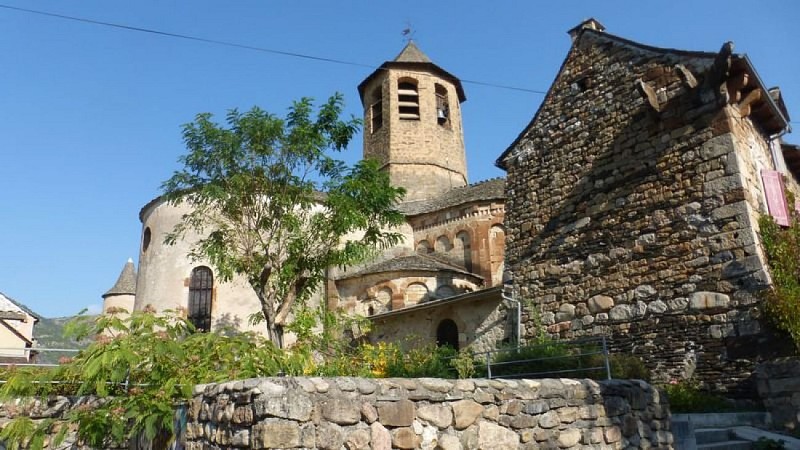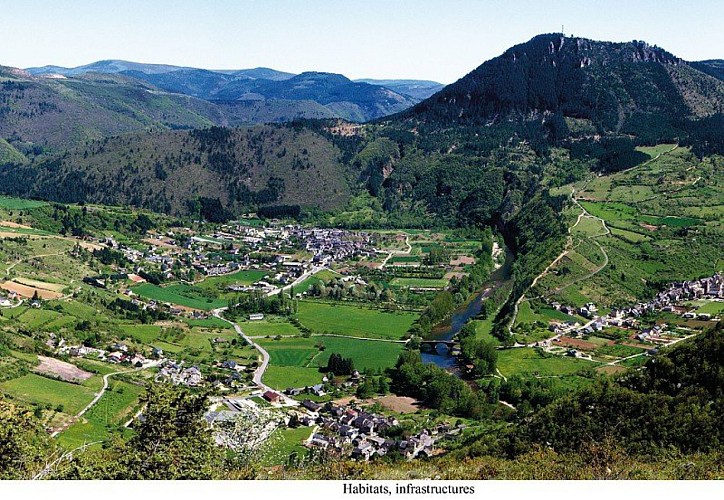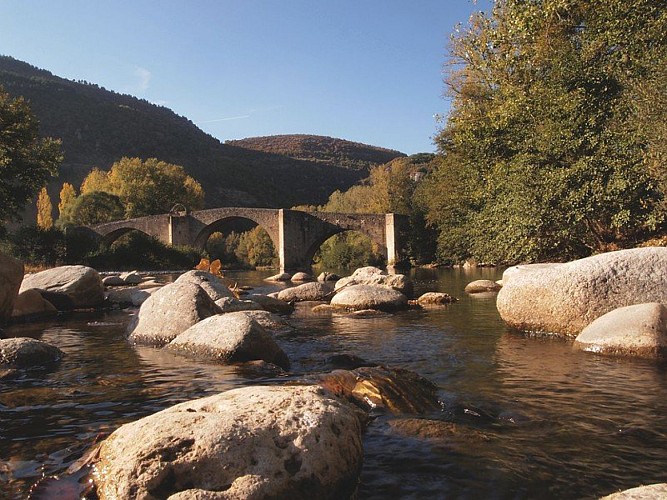 The Quézac River Bend (by mountain-bike)
Credit : © Nathalie Thomas
Quézac or Ispagnac: impossible to choose between! An ideal circuit with young children, despite a few relatively short technical sections.

Mountain-bike route #4. From the car park, go down towards the river Tarn and through the gardens. Cross the bridge to Quézac. At the town hall (mairie), turn right towards the Tarn and reach Notre-Dame de Quézac. Leave the village in the direction of the Causse Méjean. Take the track going uphill to Javillet. Continue on this track to get down to the reservoir and then to Quézac bridge. On the other side of the bridge, take a small path on the left towards Molines, In Molines, turn right onto the D 907 bis for a few metres (go past the Quézac bottling factory) and turn left to take the road leading to Espinards/Salançon. Well before Espinards, at Point 619, leave the road for a track suitable for motor vehicles on the right, which joins up with a path going downhill to Ispagnac.
11 km

max. 0 m

min. 0 m

349 m

-349 m

Altimetric profile
Starting point
Lat : 44.3706054
Lng : 3.5380079

The gardens of Ispagnac
Ispagnac is in the contact zone of limestone, granite and schist bedrock....Read more
Lat : 44.368416
Lng : 3.535539

Quézac Bridge
This bridge crossing the river Tarn gives access to the village of...Read more
Lat : 44.37384
Lng : 3.525172

Quézac mineral water
Quézac mineral water emerges naturally from the Diva spring,...Read more
Lat : 44.373328
Lng : 3.523982

Notre-Dame de Quézac
The collegiate church of Quézac – today Notre-Dame church...Read more
Lat : 44.368939
Lng : 3.524689

Eurasian eagle-owl
This bird of prey is the largest nocturnal bird. Its ideal habitat...Read more
Lat : 44.35695
Lng : 3.529513

The grapevines
From the Middle Ages to the 1960s or 70s, grapevines prospered on...Read more
Lat : 44.378046
Lng : 3.533031
6 informations complémentaires
Ambiance
This circuit takes you through the town gardens of Ispagnac, which are well-known for their vegetable plots, orchards, strawberries and grapes. It then leads you on a discovery trip through Quézac with its miraculous spring!
Access
From Florac, take the N 106 towards Mende, then the D 907bis (Gorges du Tarn) towards Ispagnac (car park opposite the pharmacy
Advised parking
Car park opposite the pharmacy
Advice
You are strongly advised to wear a helmet. The route is stony. Do not forget your repair kit and a small set of tools.