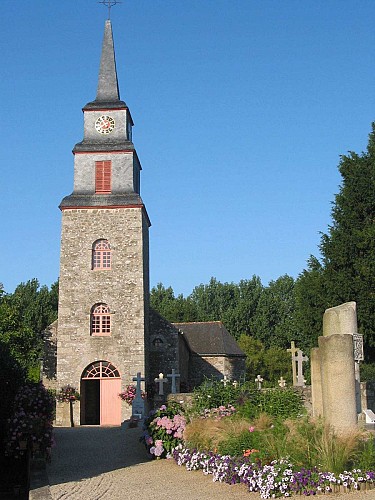 Saint-Méloir-des-Bois, a natural heritage
When arriving in Saint-Méloir-des-Bois, you will be taken by the authentic and preserved aspect of this village from Brittany.
The village boasts, since 2000, the certification of "Commune du Patrimoine rural de Bretagne" (Village of the Rural Heritage of Brittany), which shines a light on the existence of an architectural, landscape, ethnological and historical heritage which permits to understand the land and its inhabitants.

From its environmental action (Agenda 21) and its preserved countryside, it is also crowned « Village Nature ».

Finally, it won prizes for the quality of its flowers and obtained a third flower at the Flowered Towns and Villages contest in 2013.

This short itinerary allows each and everyone to discover this charming village.

(The proposed itineraries are given as an indication and don't take into account the possible evolution of the ground or the environment. The use of these itineraries is, therefore, of the individual responsibility of the users, the Office de Tourisme disengages itself from any responsibility towards the use of the map and of potential incidents that may occur on the proposed circuits).

1.4 km

max. 83 m

min. 77 m

22 m

-22 m

Altimetric profile
Lodgings nearby
Starting point
D89
22980 Saint-Méloir-des-Bois
Lat : 48.4574
Lng : -2.25009
0 m

Saint-Méloir's village-centre
The starting point is in front of the mairie. The village-centre...Read more
Lat : 48.4572
Lng : -2.25027
0 m

The Roman columns
These four columns have been standing on the square since 1961 only.
Lat : 48.4575
Lng : -2.25012
0 m

The church presinct
A small chapel from the 13th century is replaced in the 19th century...Read more
Lat : 48.4576
Lng : -2.24987
0 m

The bakehouse
The bakehouse is an essential part of rural life; the more important...Read more
Lat : 48.4572
Lng : -2.2498
0 m

The old presbytery
The old presbytery consists of a hip roofed house, enclosed by a wall...Read more
Lat : 48.4571
Lng : -2.24963
0 m

The old school
It was built at the beginning of the 1880's. Children's at play cries...Read more
Lat : 48.4566
Lng : -2.24876
0 m

Zone Artisanale des Vignes
The sports field (foot-ball, tennis...), strawberry fields and a camper-van...Read more
Lat : 48.4556
Lng : -2.25027
0 m

The Oak tree of Liberty
The French Revolution area was a trouble one for this Chouan village....Read more
Lat : 48.4569
Lng : -2.25144
0 m

Fountain
The countryside villages were often associated to one or a few watering...Read more
Lat : 48.4569
Lng : -2.2509
0 m

Crêperie Sucré Salé
Welcome to the only commerce of the village. This artisanal...Read more
Lat : 48.457
Lng : -2.25052
0 m

The old washhouse
Lat : 48.4578
Lng : -2.2505
0 m

Pré Hérissé
Lat : 48.459
Lng : -2.25181
0 m