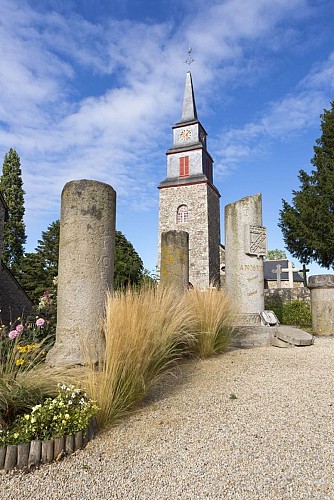 A small chapel from the 13th century is replaced in the 19th century by the current church, still surrounded today by a enclos paroissial, (church presinct), financed by the "fabrique" (Group of religious people and clergymen who rule on the church's goods and finances).
Some of the paving stones are marked by the coat of arms of Saint-Méloir, of Tréal; by the baptismal font, and of Du Bois-Adam.
The lateral door on the noon side is topped by a stoned Madonna with bird of the 15th century (cl. M. H. 1956).
Inside, the golden copper monstrance was given to Saint-Méloir by Napoléon III when touring Brittany in 1858.

Inside the church presinct, a yew tree can be found; a tree worshiped by the Celts for its virtues of immortality.
D89 22980 Saint-Méloir-des-Bois
Lat : 48.4576
Lng : -2.24987
0 m