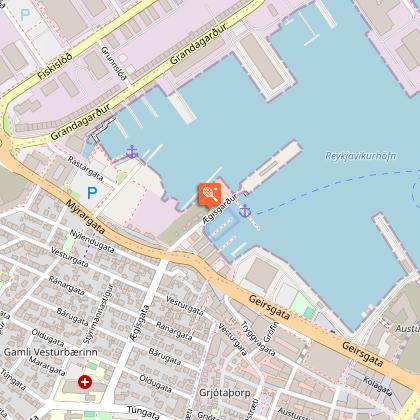 Puffin Watching Tour off the Reykjavik Coast
ArrayWhy You Shouldn't Miss This
The puffins of Iceland are fascinating creatures. They are capable of swimming underwater with their specially adapted wings. They flap their wings at a rate of up to 400 flaps per minute when they need to fly. They also constantly change the color of their beaks depending on the season.
Puffin Island is also home to Storm Petrels and Manx Shearwaters. The island itself has been labeled as a 'Site of Special Scientific Interest (SSSI)' and also as a 'Special Protection Area (SPA)'. It is a very important breeding ground for many of Europe's magnificent bird species. The rocky shores of the island also support mollusks, crabs, and grey seals. Puffin Island is teeming with wildlife and is every bird-watchers paradise.
Your Experience
Get up close and personal with the delightful birds of Puffin Island. It is a mere 15-minute cruise from Old Harbour in Reykjavik. Your guide will tell you a lot about the other islands and buildings that can be seen on the journey.
Once you reach the island, make sure to keep your camera ready. The specialized boat, Skúlaskeið, will be turned off so you can observe and photograph the birds in peace. While puffins are a major attraction, many other colorful species of birds can be spotted here. You might also see seals on the coast. Over 30,000 puffins inhabit the island; you are bound to spot a few them at least on this tour. The guide will also state many intriguing facts about the wildlife in the area and answer any questions you might have.

Technical information
Reykjavik's Old Harbour
101 Reykjavik
Lat : 64.1516876
Lng : -21.9435902
8 Additional information
Highlights

Guided boat tour to Puffin Island in Akurey.
Click photographs of the birds on the island.
You will learn more about the birds and other animals that can be seen in this area.
Sail to the island on the specially designed boat known as Skúlaskeið.

FAQs
Know Before You Go
Important Information

The borders are still closed for citizens from countries outside of the EU. Borders will open for everyone starting July 1st. Once passengers have arrived in Iceland they will have the choice to be tested for COVID-19 at the airport, or go into a 2 week self-quarantine. From June 15th-June 30th the COVID-19 testing will be free for all passengers. Starting July 1st, each test will cost 15.000 ISK. Children born in 2005 or later are exempt from the testing. Health certificates will no longer be accepted in lieu of testing.
Before passengers arrive in Iceland they will be asked to fill out a pre-registration form, agreeing to follow rules related to infection control. They will also be asked, but not required, to download the tracking app Ranking C-19, which is being used to help trace transmission and spread of COVID-19. A COVID app is now available in the following languages: Icelandic, English, Polish, German, French, Spanish and Italian.
We are continuing to keep a very close eye on the situation and we will update our set-up according to government health and safety updates.

Ticket Variants
There are currently no ticket variants.
Timings
This tour is available on all days of the week and runs between May and early August. The duration of the tour is 1 hour. It is available between 8 AM to 5 PM in 1½ hour intervals in June, July, and August. In May, the trips to the island are available between 9.30 AM and 3.30 PM in 1½ hour intervals.
Rules and Regulations
Warm clothing and appropriate footwear are recommended for this tour. The tour may be canceled in case of bad weather conditions.
Cancellation Policy
Super-Flexible Cancellation Policy
Tickets can be canceled up to 24 hours prior to the tour for a full refund.
Ticket Delivery Information
You will receive an email confirmation along with your mobile voucher shortly. You can display your voucher on your mobile device along with some valid photo ID at the meeting point.
Meeting Point
You are expected to arrive at least 20 minutes prior to the commencement of the tour. The boat will depart from the Old Harbour of Reykjavik.
How to Get There
Drive along Bíldshöfði and follow route 41 to Suðurbugt. Turn right onto AEgisgardur. You will find the meeting point on your left.
Validity
The ticket is valid only for the scheduled date and time.
Inclusions

Learn about the wildlife of Puffin Island and its surrounding areas
Guided boat tour
Professional English-speaking guide
Get close to the puffins and photograph them
Binoculars
A specialized boat that can get you very close to the shore

Exclusions

Free pick-up and drop-off services