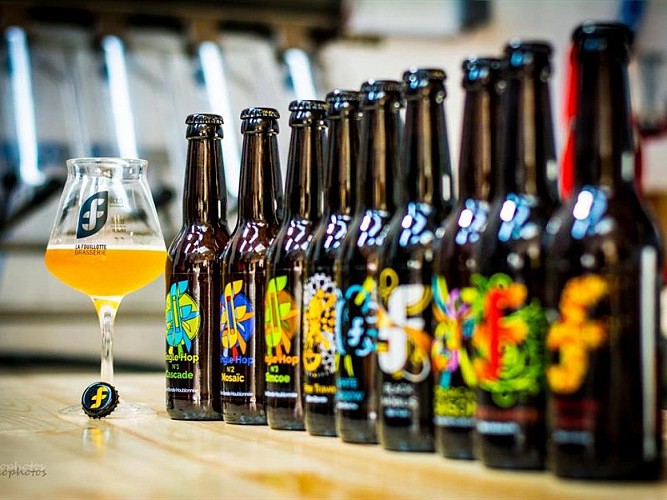 Credit : Quentin Blisquez
The story of the Fouillotte Brewery is about three friends connected by their love of beer, who turned their passion into a profession. Beers with various recipes to awaken your taste, accompanied by coasters and other wooden objects made and laser-cut at the brewery, which add a natural and original touch to your tastings.

A Vosges farmhouse on a hillside, a small mountain stream lost in the fir trees, a trickle of mist in the early morning, the sweet smell of cooking cereals. This is where the story begins: Thibaut, Florian and Boris brew their first beers with water from the Fouillotte spring.
And then the adventure began! The brewery came down from the mountains to Epinal and introduced all the people of the Vosges to intense and aromatic beers with surprising flavours.
Friends who come to taste, to enjoy, to play music and to party. This is the spirit of La Fouillotte! Conviviality, sharing a good time, the desire to treat oneself.
With the rhythm of the seasons, the range of beers grows, evolves and constantly surprises! White, blonde, amber, black... there is something for everyone!
"Our high quality hops reveal intense and explosive flavours. Treat yourself by tasting our atypical beers like Tropical Season, Time Travel or Secret Garden!"
Infos techniques
8 Rue Christophe Denis
88000 EPINAL
Lat : 48.1622266
Lng : 6.4534567