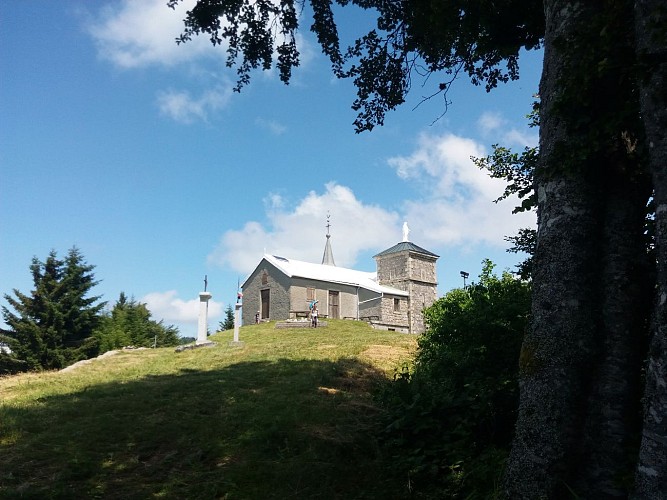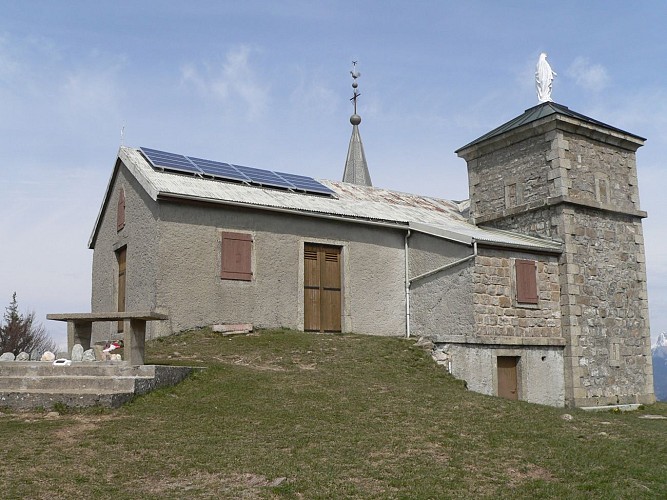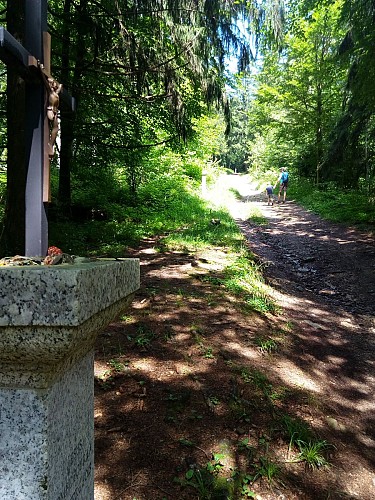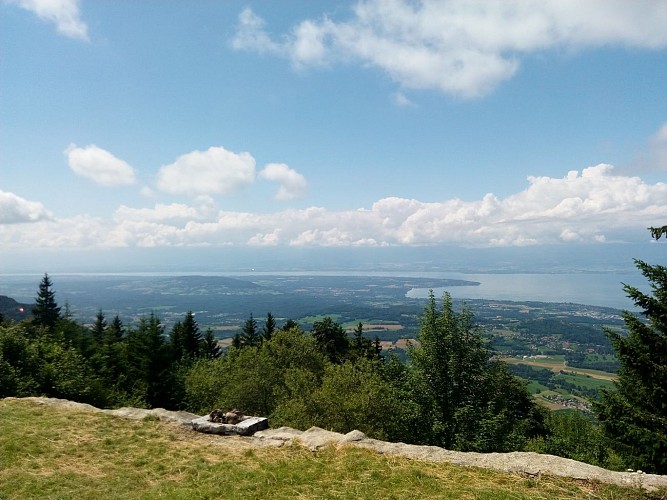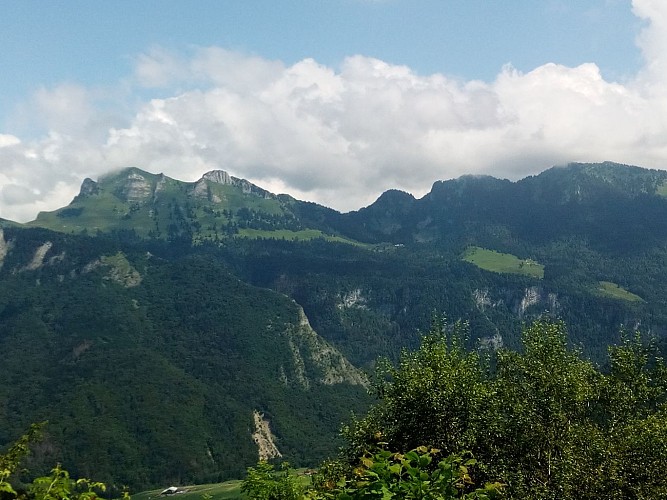 "La Chapelle d'Hermone" Hike
This walk will take you to the top of the village of Lullin for fabulous views of the Swiss Alps' peaks. A climb that's worth your time!

Nature and Heritage:
This walk takes you along the way of the cross built in 1842 by the Vailly residents whose stops bear the names of donors. The Vailly residents were also behind the chapel devoted to the Virgin Mary, completed in 1517. The chapel was destroyed in 1536 during the Chablais' protestant period. The current sanctuary was built in 1840.
Route details:
Park in front of the Town Hall or Tourist Information. Follow the "Cascade, Chapelle d'Hermone" footpath behind the church. After 10 minutes walking in the forest you will come out near the waterfall where deer often come to drink.
Continue along the trail and you will reach "La Touvière." Follow the route for 200m then turn right. Turn right when you reach the woods. The path takes you up to "Mollard" then "Le Feu". The path here is signposted "Chapelle d'Hermone" on the border then in the forest after you've been through La Feu hamlet. After a few twists and turns in uncultivated mountain pastures, the way of the cross will lead you to Notre Dame d'Hermone. To get back, go back to Le Feu village then La Touvière via Muffaz. The route is then the same one that you took to get here.
You can also go back from Col du Feu, especially with children.
Useful information: yellow markings followed by red and white.
11 km

max. 1308 m

min. 846 m

480 m

480 m

Altimetric profile
Starting point
Chapelle d'Hermone Hermone Vailly
74470 Lullin
Lat : 46.2844
Lng : 6.52149
0 m

The deers' waterfall
Located 10 minutes from the church, it is used by deer and other animals...Read more
La Cascade 74470 Lullin
Lat : 46.2843
Lng : 6.52188
0 m

Hermone chapel
Situated in 1327 m of height, the Chapel of Hermone was built in 1489...Read more
Hermone 74470 Vailly
Lat : 46.3031
Lng : 6.51228
0 m

Le Bourg 74470 Lullin
Lat : 46.2833
Lng : 6.52103
0 m

Hôtel de l'Union
Lovingly prepared local specialities feature on the menu: tartiflettes,...Read more
Le Bourg 74470 Lullin
Lat : 46.2833
Lng : 6.5231
0 m
4 informations complémentaires
Open period
Throughout the year: open daily.
Updated by
Office de Tourisme des Alpes du Léman - 16/01/2019