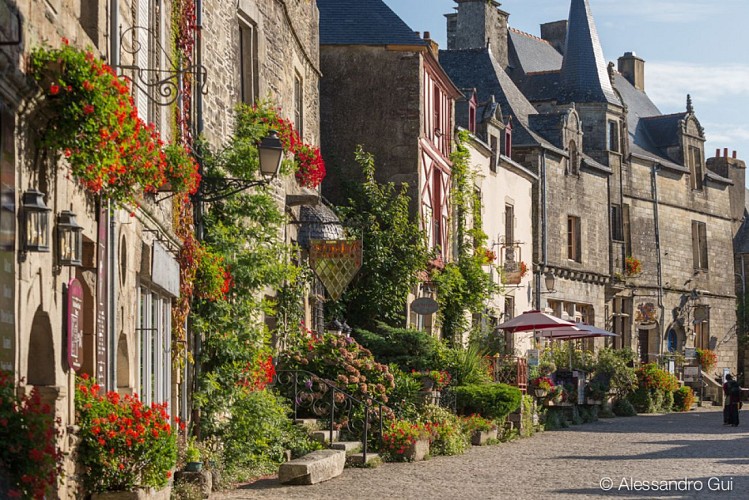 Welcome to Rochefort en terre
Rochefort-en-Terre is very lucky to have a rich architectural heritage. Thanks to the local government's desire to maintain and protect the site, this village is now classified as a Petite Cité de Caractère (an award honouring the remarkable architectural heritage and landscape of small villages in France). Rochefort-en-Terre is also part of the Plus Beaux Villages de France (Most Beautiful Villages in France) and Villes Fleuris (an award recognising a town's respect for the environment, protection of a social and community network, and quality of its tourist facilities) with four flowers thanks to the combined efforts by the community and residents.
Starting from Place du Puits, take Rue des Scourtets, and then, Chemin des Douves, located to your right. Walk along the strongholds and fortifications built during the 14th and 16th centuries.

2 km

max. 59 m

min. 32 m

11 m

-30 m

Altimetric profile
Lodgings nearby
Starting point
10-16 Chemin des Douves
56220 Rochefort-en-Terre
Lat : 47.6993
Lng : -2.33805
0 m

FORTIFICATIONS
During the 12th century, the castle and city were built on this rocky...Read more
11-15 Chemin des Douves 56220 Rochefort-en-Terre
Lat : 47.6994
Lng : -2.33809
0 m

VIEUX BOURG (OLD TOWN)
Located below the castle and most "noble" houses, this old artisan...Read more
9-21 D774 56220 Rochefort-en-Terre
Lat : 47.7005
Lng : -2.33707
0 m

VIEW OF LES GRÉES
Hills covered in schist used for building houses and making roof slates....Read more
8 Place Saint-Michel 56220 Rochefort-en-Terre
Lat : 47.6992
Lng : -2.33488
0 m

SAINT MICHEL CHAPEL
Saint Michel de la Grêle Chapel dates back to the 17th century. It...Read more
8 Rue de la Grêle 56220 Rochefort-en-Terre
Lat : 47.6983
Lng : -2.33113
0 m

PLACE DES HALLES (ancient market place)
As the town's main square starting from the 17th century, Place des...Read more
5 Place des Halles 56220 Rochefort-en-Terre
Lat : 47.6995
Lng : -2.33634
0 m

PORTE DE L'ÉTANG
This opening is one of the Rochefort entrances. This north-south road...Read more
5 Rue de l'Étang 56220 Rochefort-en-Terre
Lat : 47.6983
Lng : -2.33698
0 m

WASHHOUSE
This 16th century public washhouse got its water from Le Candré River....Read more
21 Rue de l'Étang 56220 Rochefort-en-Terre
Lat : 47.6982
Lng : -2.33658
0 m

NOTRE DAME DE LA TRONCHAYE CHURCH
Notre-Dame-de-la-Tronchaye Church is oddly located on a slope in the...Read more
2 Rue de l'Étang 56220 Rochefort-en-Terre
Lat : 47.6984
Lng : -2.3388
0 m

TURRET
Admire this turret with oriel windows on this double house, which...Read more
2 Place du Puits 56220 Rochefort-en-Terre
Lat : 47.6995
Lng : -2.33714
0 m

PLACE DU PUITS
Different architectural periods are displayed through the slate and...Read more
3 Venelle du Mitan 56220 Rochefort-en-Terre
Lat : 47.6992
Lng : -2.33746
0 m