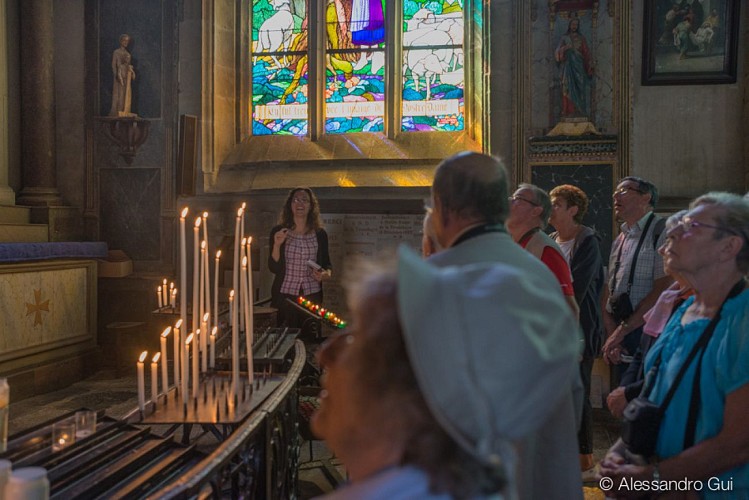 NOTRE DAME DE LA TRONCHAYE CHURCH
Notre-Dame-de-la-Tronchaye Church is oddly located on a slope in the lower part of the city. Legend has it that during the 9th or 10th century, during the Norman invasions, a priest hid a wooden statue of the Virgin Mary breast-feeding her baby in a hollow tree trunk in order to protect it from the pillaging. Two centuries later, a shepherdess found the statue in the tree trunk and the town decided to build a church there. The story is retold on the stained glass windows. A sculpted cross recalling the Passion of the Christ is found in the square in front of the church, where the former Rochefort cemetery was located up until the 19th century.
Upon entering the church, you will be surprised by the pillars that lean due to the landslides towards the south, and then the west. To prevent the church from collapsing, buttresses were built on the southern end, extending the aisles parallel to the nave, and on the western side, lengthening the nave and allowing a tribune to be built. In 1498, Jean IV de Rieux-Rochefort founded a college, thanks to the 100,000 gold coins that he received from Anne of Brittany, for seven canons to pray for the repose of the soul of the lord and his family. In the choir, you can still see their carved stalls. In 1925, Rochefort-en-Terre became dedicated to the Virgin Mary and two new stained glass windows were built in the church: one window in 1926 representing the Holy Family located in the back choir and the second built in 1927 of the shepherdess discovering the statue of the Virgin Mary in the tree trunk.
Take Rue ND de la Tronchaye, and then Rue Grande Venelle on your right. Go back up Venelle de l'Étang. You will arrive on Rue du Porche.
Infos techniques
2 Rue de l'Étang
56220 Rochefort-en-Terre
Lat : 47.6984441
Lng : -2.3388004
0 m