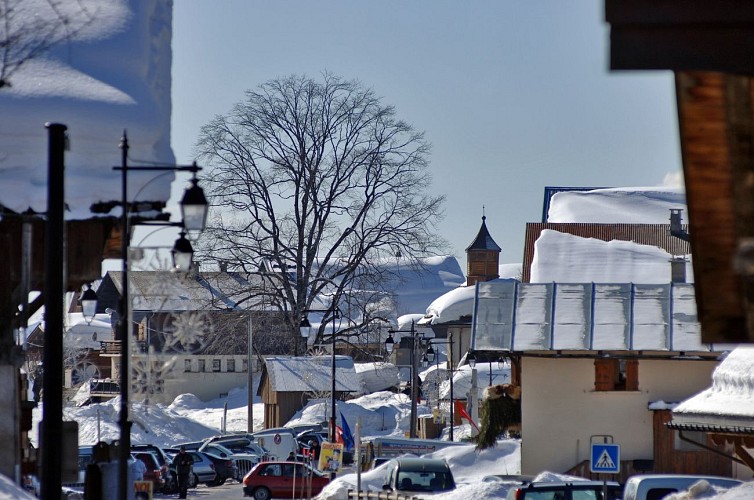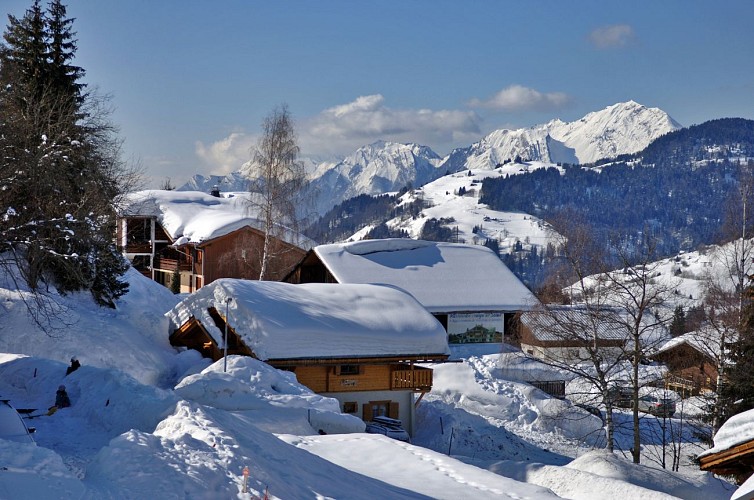 From village to village : Crest-Voland / Le Cernix n°7
Small easy walk connecting the village of "Crest-Voland" to the hamlet of "Le Cernix".

From the Tourist Office, cross the RD71 road (caution) and take the path along the Bar-Tabac, chemin des Bernades, opposite. Descend for about 150 m at the end of the dead end to join the start of the route on your left. The first part of the route is located under the village in an atmosphere alternating clearing and forest. The route then goes up towards RD71A, route des Mottets. Take a left and take it for 100 m then leave it and take a right at the village entrance sign "Crest-Voland". Continue towards Cernix following the route that passes in the clearings under the RD71C road, route du Cernix. The route ends at Place du Cernix.

TO KNOW :
The hamlet of Cernix belongs to the municipality of Cohennoz, whose capital is 5 km away. In the past, because of this distance, the inhabitants of Cernix went to school and to the Church of Crest-Voland, while those of the chief town went to Héry sur Ugine, on the opposite slope, until the building of their own Church in 1766. Since the 1960s, Le Cernix has been oriented towards tourism and equipped with ski lifts. The hamlet has become urbanized and concentrates 90% of the population in the year of Cohennoz.
4.5 km

max. 1239 m

min. 1175 m

100 m

-117 m

Altimetric profile
Starting point
73590 Crest-Voland
Lat : 45.79503
Lng : 6.50532
0 m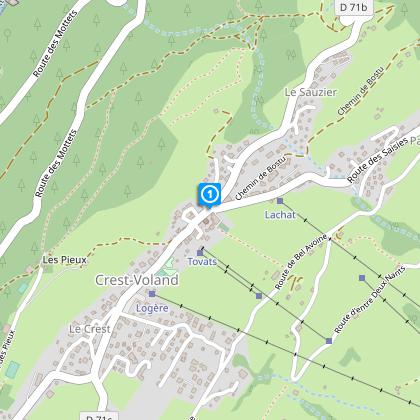 1
centre village près du "Central Bar"
D71A 73590 Crest-voland
Lat : 45.795184
Lng : 6.505402
1 m

Crest-Voland church
The church of Crest-Voland, which is dedicated to the Nativity of...Read more
Lat : 45.794856
Lng : 6.505162
1230 m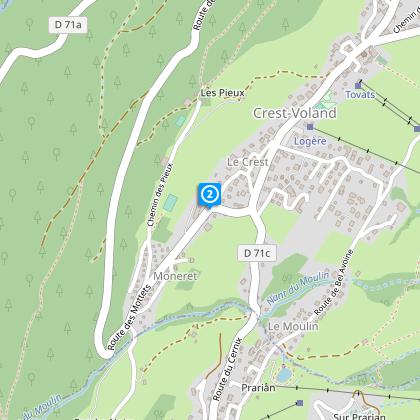 2
D71A 73590 Crest-voland
Lat : 45.790192
Lng : 6.498618
1 m

Cernix chapel
A simple wayside shrine in 1663, the chapel dedicated to Saint Aubin...Read more
Lat : 45.783488
Lng : 6.498531
0 m

Chalet Hôtel du Mont Charvin et SPA****
Lat : 45.784045
Lng : 6.498928
1402 m

L'Arche de Zoé
Traditional and bistro-style cooking, open 7/7 for lunch and dinner,...Read more
Lat : 45.783843
Lng : 6.498939
1230 m
Date and time
From 15/12/2023 to 15/04/2024
From 15/12/2024 to 15/04/2025
4 informations complémentaires
Location complements
Accessibility possible via the Station Shuttle (Center-village stop).
Departure from the trail at the Tourist Office.
Open period
From 15/12 to 15/04.

Subject to snow conditions.