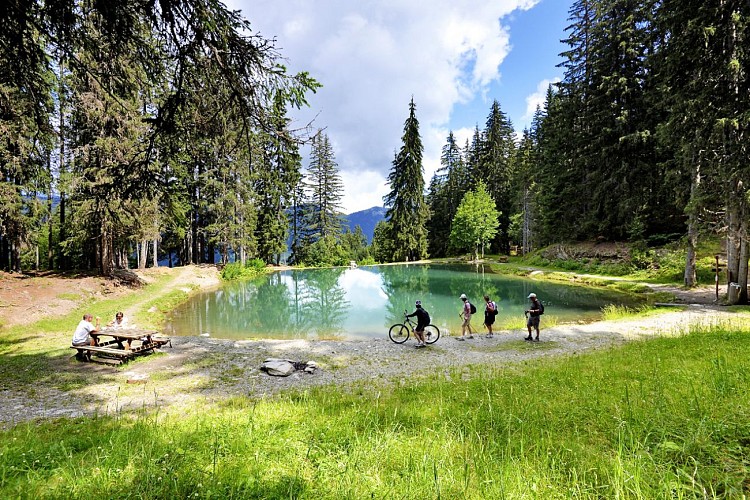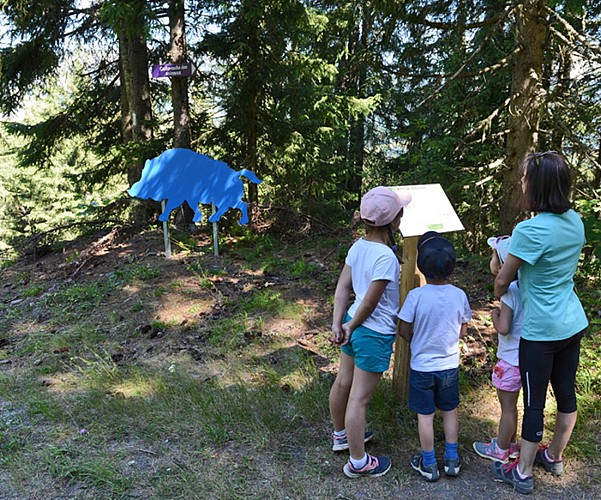 A short walk in the woods, ideal in summer, to enjoy the bucolic atmosphere of the Lake of Evettes.
DEPARTURE: Evettes parking.

ROUTE: from the car park, take the road briefly towards Flumet until the directional post LES BARRIOZ. Continue on the left towards MARRIAGE then right towards LE RIANT. From here, turn right and go to the TELESKI DU LAC then FORÊT DES EVETTES. Take again on your right towards LA MONTAGNETTE, LES CLIEUX then LAKE EVETTES. Go around the lake, reach LA CROE and get off LA RUFFE then LE RIANT. Return by the route of the departure.

POINTS OF INTEREST:
- Lake Evettes, nice little natural lake in the middle of the fir trees.
- The "Cache-cache des animaux" trail, thematic trail to discover the fauna of our mountains.
4.6 km

max. 1365 m

min. 1009 m

350 m

350 m

Altimetric profile
Starting point
Unnamed Road
73590 Flumet
Lat : 45.8238
Lng : 6.54249
0 m

Tourist Office of Val d'Arly - Flumet / St Nicolas la Chapelle
In Mont-Blanc country, between Aravis and Saisies passes, on the Route...Read more
11 rue du Mont Blanc 73590 Flumet
Lat : 45.8176
Lng : 6.5135
0 m

Evettes Lake
After a mountain walk, come and relax by the side of this peaceful...Read more
73590 Flumet
Lat : 45.8171
Lng : 6.55826
0 m

La Montagnette
Restaurant located next to Lac des Evettes, on the slopes of the Espace...Read more
Sur les pistes 73590 Flumet
Lat : 45.8178
Lng : 6.55754
0 m

Animal trail "Animal Hide n'Seek"
Signposted trail which is accessible by ski from La Belette green...Read more
Lac des Evettes 73590 Flumet
Lat : 45.8169
Lng : 6.55833
n/a m

Les Evettes chairlift
The Evettes Chairlift opens this summer and gives you access to marked...Read more
Les Evettes 73590 Flumet
Lat : 45.8238
Lng : 6.54286
n/a m
5 informations complémentaires
Updated by
Office de Tourisme du Val d'Arly - 17/06/2019

Open period
From 01/06 to 30/09.
Reception conditions for animals
Dogs must be kept on a leash due to the presence of herds.