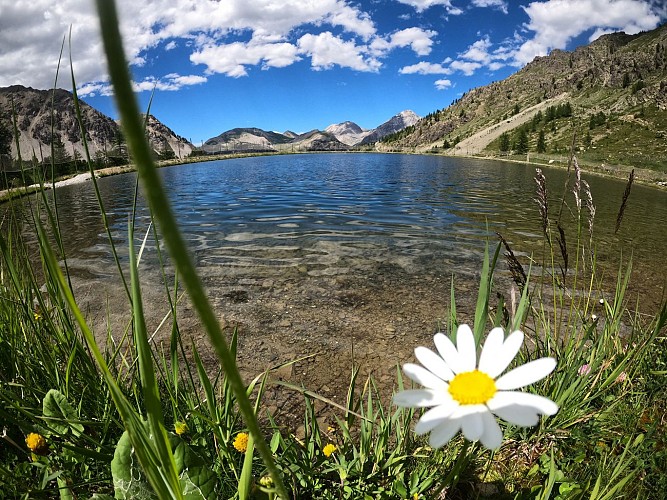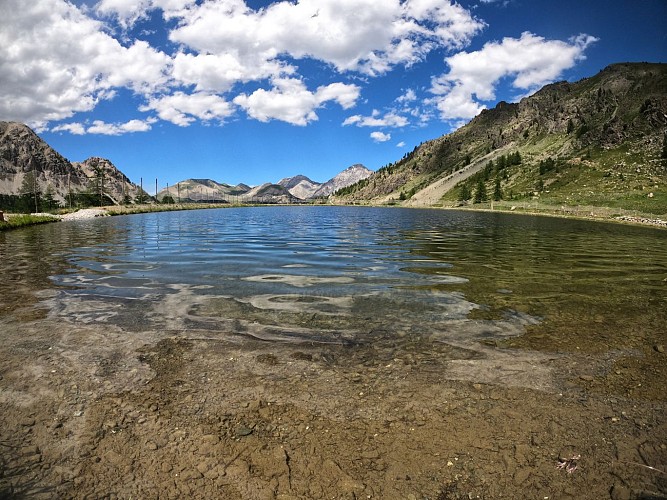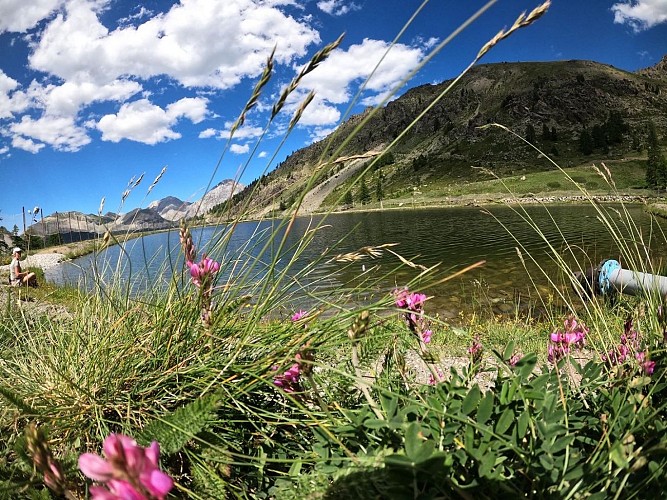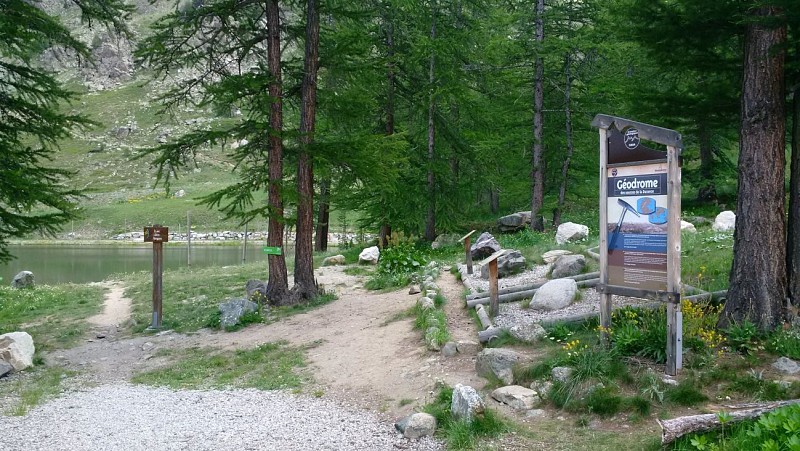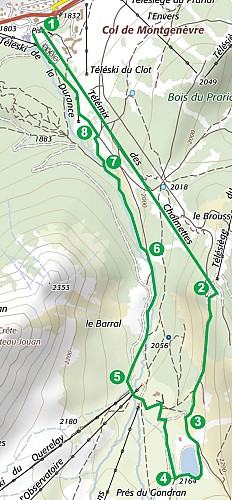 Randonnée - Le lac des Anges par le Télémix des Chalmettes
From the top of the Chalmettes telemix, you will descend quietly to the Anges lake before reaching the banks of the Durance.

From the lake you can enjoy a beautiful view of Mont Chaberton and learn about the rocks around you thanks to the geological panels at the entrance to the lake.

Highest point: 2200 m (Top of the Chalmettes telemix)
Type of route: loop
Distance: 4 km
Duration: 1h 20 (+ 10 min TMX)
Ascent +: 40 m
Ascent -: 420 m

ITINERARY

1. Take the Chalmettes telemix
2. On arrival, turn right and follow the track down to the Gondrans plain.
3. At the first junction, turn left towards the chalet and lake and climb the small slope to reach the lake. Walk halfway around it to the geodrome
4. From the geodrome, turn right onto a path that leads down towards Montgenèvre. At the crossroads turn left to reach the Gondrans chairlift
5. Pass the chairlift and take the La Durance mountain bike trail down to your right. The track is wide, but stay well to the edge of the track to avoid any accident with a cyclist. A path goes off to the right and crosses the Durance stream which is still just a stream, so don't take it. Go straight on.
6. You will cross the Durance without realising it (it goes underground). At the next crossroads, leave the mountain bike track and turn left onto the path (towards the Durance bridge). Go along the Durance river
7. You reach a track, turn right and walk up the track to the nets (staying on the edges as you share the track with mountain bikers).
8. At the nets, turn left through the special pedestrian crossing to find yourself on the other side of the nets. Follow the path on your left which descends quietly to the Durance bridge (do not enter the golf course which is on your right). From the bridge, walk back down to the Chalmettes car park.
4 km

max. 2203 m

min. 1821 m

40 m

420 m

Altimetric profile
Starting point
TMX des Chalmettes A côté de Durancia
05100 Montgenèvre
Lat : 44.928731
Lng : 6.717596
Date and time
From 08/07/2023 to 31/08/2023 from 09:30 to 16:30
From 08/07/2024 to 31/08/2024 from 09:30 to 16:30
4 informations complémentaires
Location complements
Departure from the TMX des Chalmettes next to the Durancia Spa & Balneo Centre.
Open period
From 08/07 to 31/08 between 9.30 am and 4.30 pm.