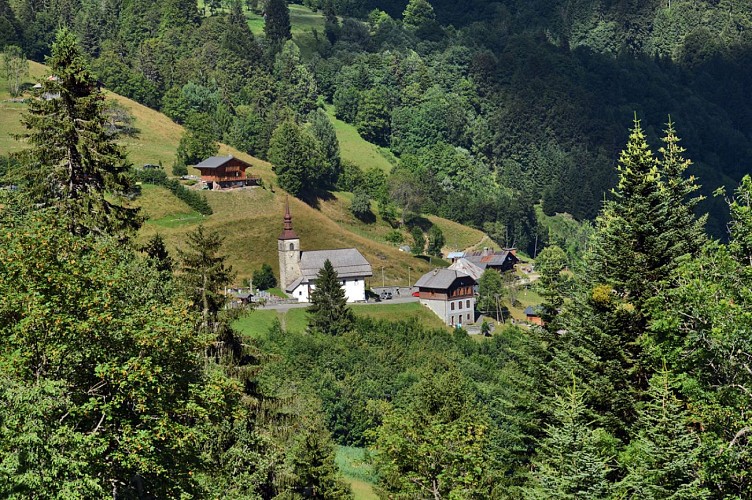 Eine idyllische Fahrt vom Weiler Chaucisse, um den Mont Blanc zu bewundern.

ABFAHRT: Parkplatzeinfahrt des Weilers Chaucisse - Wanderinformationsschild.

ROUTE: Vom Parkplatz aus nehmen Sie kurz die Route des Montagnes bis zur Kreuzung LES ROZETS. Nehmen Sie die kleine Straße rechts in Richtung DES CARRÉS und seiner Postkartenlandschaft: Almbauern mit Blick auf den Mont Blanc. Rückkehr auf derselben Route.

INTERESSANTENPUNKTE:
- Der Weiler Chaucisse, eine ehemalige Gemeinde, ist seit den 1960er Jahren mit dem Dorf St Nicolas la Chapelle verbunden.
- Kirche von Chaucisse.
2.4 km

max. 0 m

min. 0 m

130 m

-130 m
Starting point
73590 Saint-Nicolas-la-Chapelle

Fremdenverkehrsamt des Val d'Arly - Büro Flumet/Saint Nicolas la Chapelle
Im Land des Mont-Blanc, zwischen den Pässen Aravis und Saisies...Read more
Lat : 45.818089
Lng : 6.514642
893 m

Kirche von Chaucisse
Große Kapelle oder kleine Kirche? Der Weiler Chaucisse war nur...Read more
Lat : 45.827682
Lng : 6.48379
0 m
Date and time
From 01/06/2022 to 30/09/2022
From 01/06/2023 to 30/09/2023
4 informations complémentaires
Open period
Vom 01/06 bis 30/09.
Reception conditions for animals
Hunde müssen an der Leine sein.