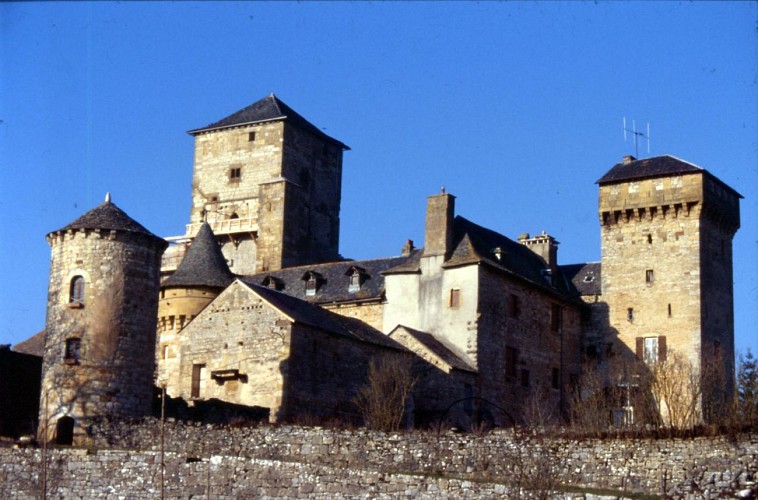 Credit : Office de Tourisme
Car park : in the village, on the church square

Go along the church and turn left. The street goes along side the hole of "Glassac". Go on until "Le Mas".
In "Le Mas", take the path on the right, boarded by little stone walls. Then join the road, which takes you to the hamlet "Le Truel". After the last house, leave the road and take the path on your right. You go along side an old barn "Le Caussanus". You reach "Les Courets".
At the end of the hamlet, cross the road to take the path, straight on, which goes up into the wood "Montfalgous". You reach a quarry. Go around it and take a little path, which goes up to the "Puech de Redon", and join the castle of "Galinières".
Cross the hamlet and go under the road D45 by the tunnel and turn left.
Take the road D 64, direction "Vimenet". After the bridge, turn left to "Bois de Galinières"
Just before the mansion, go around it. Please close the barriers after you ! 20 m after the last building, you will see ruins of a dolmen. 1 km further, you go along side an old typical sheepfold "Jasse de Montbez".
At the crosspaths, turn left, and go down. There's a panoramic view of Pierrefiche d'Olt, the Serre Valley and the Aubrac Mountains. Pass to the left of the castle of "Montbez". You reach the D 45. Cross it by an underground tunnel to join Pierrefiche again.
14 km

max. 740 m

min. 596 m

412 m

-411 m

Altimetric profile
Starting point
184 pierrefiche d'olt
12130 Pierrefiche
Lat : 44.4442
Lng : 2.9476
0 m

le village de Pierrefiche d'Olt
Situé à 7 km de St Geniez d'Olt, Pierrefiche d'Olt, appelé "Pèira-Ficha",...Read more
184 pierrefiche d'olt 12130 Pierrefiche
Lat : 44.4442
Lng : 2.94772
0 m

Grange monastique fortifiée de Galinières
À quelques kilomètres du village de Pierrefiche, en bordure du CD...Read more
12130 Pierrefiche
Lat : 44.4231
Lng : 2.90196
0 m

le Trou du Souci
Au pied du village de Pierrefiche, le ruisseau de la Serre serpente...Read more
12 lot le clos des grands chenes 12130 Pierrefiche
Lat : 44.4398
Lng : 2.95009
0 m
2 informations complémentaires
color code
the color code is yellow
Types de sol
[EN]Bitume
[EN]Terre