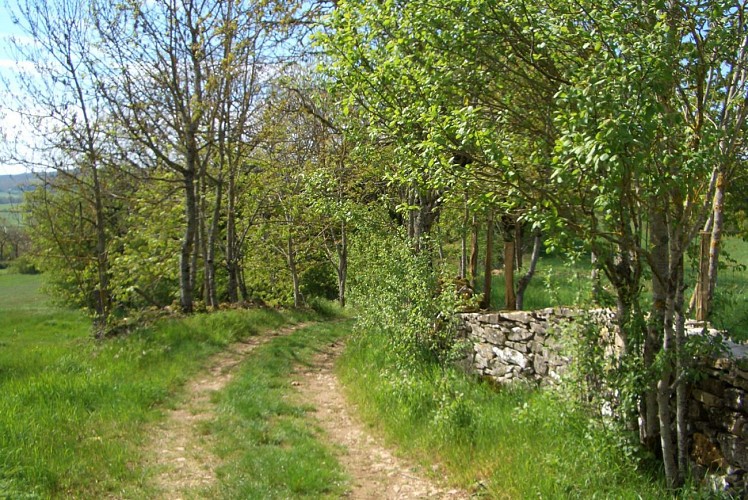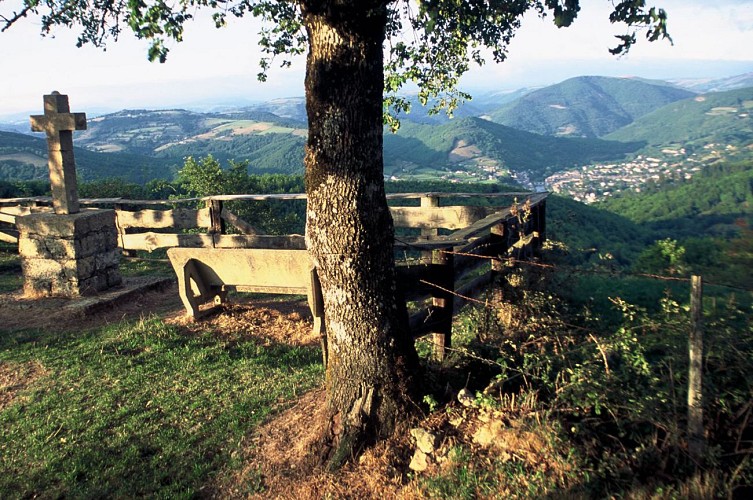 Le sentier de Pierrefiche
Credit : Office de Tourisme
Situation  : Sainte Eulalie d'Olt – near the D 988 - Car park : housing development " La Fon de Ste Anne"
Leave the square in the middle of the village by the main street, direction St Geniez d'Olt. Leave the campsite and the little bridge on your left. 150 m further on, take the path on the right, which reaches the D988. There is a cross at the crossroads.
Cross the road D 988 and take the footpath just opposite. 1,5 km further on, in a hairpin bend, go on the main large path, which goes up and leave the path on your right. When the path is straight, leave the 2 little paths on your left.
At the top, on the plateau, at the end of the wood, leave also the 2 paths to your right. Continue on the plateau for about 300 m and take the path on your right, which goes down.
In the hollow, there is a fountain, go straight on. Pass along side another fountain. Join Pierrefiche.
Go round the cemetery and turn to your right, direction "Panorama"-"Saint Geniez". Go along the road until the stone cross (1764) and the picnic area. At the cross, take the path on your right and go down.
When you arrive at "Bellevue" and the first houses, take the path, which will take you down to the road D 988. Turn left on D988, then right (old road along the river Lot) to reach Ste Eulalie d'Olt again.

9.8 km

max. 656 m

min. 418 m

345 m

-346 m

Altimetric profile
Starting point
83 sainte-eulalie-d'olt
12130 Sainte-Eulalie-d'Olt
Lat : 44.4646
Lng : 2.94621
0 m

Ste Eulalie d'Olt, village classé parmi les Plus Beaux Villages de France
La cité médiévale, nichée dans un écrin de verdure, charme le visiteur...Read more
83 sainte-eulalie-d'olt 12130 Sainte-Eulalie-d'Olt
Lat : 44.4647
Lng : 2.94626
0 m

le village de Pierrefiche d'Olt
Situé à 7 km de St Geniez d'Olt, Pierrefiche d'Olt, appelé "Pèira-Ficha",...Read more
184 pierrefiche d'olt 12130 Pierrefiche
Lat : 44.4442
Lng : 2.94772
0 m

le Trou du Souci
Au pied du village de Pierrefiche, le ruisseau de la Serre serpente...Read more
12 lot le clos des grands chenes 12130 Pierrefiche
Lat : 44.4398
Lng : 2.95009
0 m

Panorama du Trepalou
Un peu en retrait du village, à droite du cimetière, le site du Trepalou...Read more
12130 Pierrefiche
Lat : 44.4493
Lng : 2.94877
0 m
3 informations complémentaires
color code
the color code is yellow
other possibily
it's also possible to begin from Pierrefiche d'Olt
Types de sol
[EN]Bitume
[EN]Terre