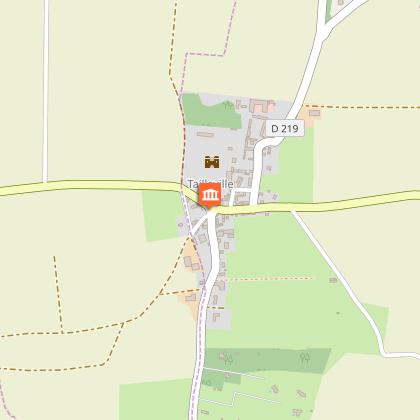 Place du Royal North Shore Régiment
A stone cross is located in Tailleville, in the centre of the Royal North Shore Regiment Square. The pedestal is identical to that of the Dover cross: square in cross-section and decorated on all four sides with rectangular panels. It supports a round and smooth column made of four pieces of stone. The column is not finished with a capital but with a strong round moulding and a square entablature; it is surmounted by a Latin cross with a Christ carved in low relief. A white marble plaque affixed to one side of the pedestal recalls the names of the soldiers of the town who died during the two great wars of 1914-1918 and 1939-1945. It is also struck by the war cross.

This column was originally located a few dozen metres from the square, at the corner of departmental road 35, generally known as the Bayeux road and the Bernières road, precisely on the territory of this municipality: it was a cross of the road. The mayor of Tailleville Georges Pierre made his trip in 1960. A document was sealed under the pedestal. This cross became the memorial to the dead of Tailleville. But the plaque also bears the invocation "O Crux Ave" - Hail O Croix, which appears on most of the Calvaries of our country. Cross of the road, Calvary and memorial to the dead, the column of Tailleville is all three at once.
Infos techniques
1 Place du Royal North Shore Regiment
14440 Douvres-la-Délivrande
Lat : 49.3042
Lng : -0.410936