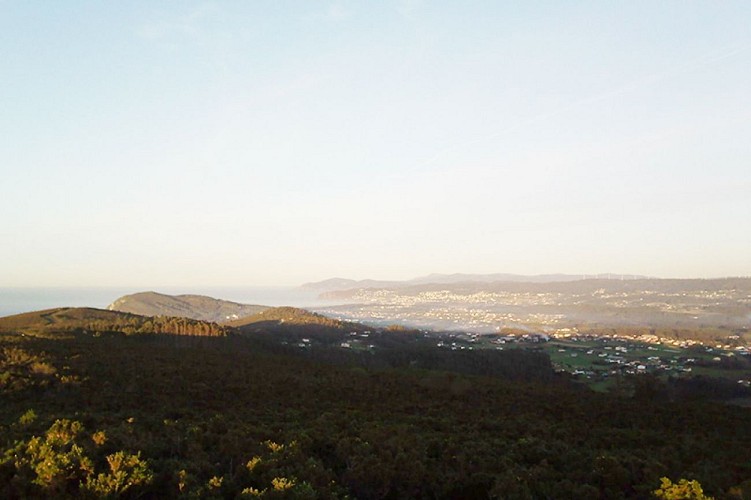 We find ourselves in Vilarquinte to access Monte da Lagoa, an impressive viewpoint for enjoying wonderful views, where we find a geodetic point.

Until 1940, the summit of Monte da Lagoa separated three parishes: O Val, Mandiá and Covas, and the municipalities of Narón and Serantes (now Ferrol). The so-called "Fonte dos Tres Alcaldes" fountain is very close, where, according to legend, the night of San Juan - the day when the doors which communicate our world with the Alén open wide - you can hear the wonderful music of a "mouro" piper playing some golden bagpipes.

At this high point, the Neolithic Fence of Monte da Lagoa was found, the first of its kind to be discovered in Galicia and Spain. This enclosure was round, well defended by a moat and a stone wall (called "curro vedro") and it was where the cattle were kept during the summer season.

The cattle's ascent to the mountains of Vilarquinte in summer and their descent to the Val de Trasancos in winter according to the tradition of the Neolithic shepherds and farmers was an event of great social relevance, and that is why the Celts from the Atlantic Cultural Area of Europe divided the year into two halves.

On the first of May, the Celtic summer began, taking the cattle to the "brañas" (pastures of fresh grass), gathering them in this enclosure at night, protected from the wolves. And so, on the first of November, with the beginning of the Celtic winter, they returned with the cattle to the Valley, and to the safety and heat of the forts.

These Neolithic fences for the cattle of Atlantic Europe explain the mystery of and the reason for the Celtic celebrations with the May celebrations ("maios"), as well as the celebration of the day of the dead. May and November, irrelevant dates for agriculture, are key for livestock, the basis of wealth in a mixed agricultural and livestock economy. In this way, the Neolithic enclosures fulfilled an economic and protective function for the cattle, as well as a ceremonial one.
Technical information
Lat : 43.5552049
Lng : -8.2401378