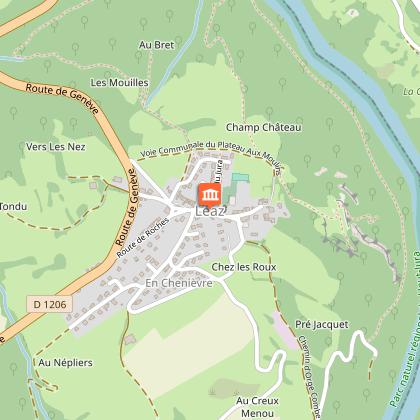 Each village has some hidden treasures: a fountain basin with a pure wave, an old church, a castle inherited from the Middle Ages or some old farms with typical architecture.
Discover this heritage ...
It is likely that, from antiquity, the rock of Léaz was a privileged observation post to monitor the Rhone and the parade of the Ecluse. And so very early, this site knew a human occupation. But the poor soil, the important relief of the banks of the Rhone, the proximity of the Jura Mountains and the frequency of winds sweeping the cluse did not predispose to an economic wealth. Agriculture, on this site, provided only a meager production.
Rivers became a source of income. From the Middle Ages, the Rhone and the brook of Condière acquired several mills. The gold diggers, the miners, praised the right to search for gold in the sands of the river. It was probably in the 16th century that the fortified village was abandoned in favor of a site to the west, at the foot of the hill.
The current village surrounds the parish church. The houses are arranged along two streets. By taking these two arteries, you will be able to identify the architecture of the traditional farm in Léaz. It includes a barn, a stable and the house on two levels. The whole thing was covered with a thatched roof, which caused many fires that ravaged the village. This is why a pond had been built in the central square to have a water reserve nearby.

Leaz Castle: to the east of the village stands a natural rocky promontory overlooking the Rhone. At the top of the spur, you will discover the ruins of a wall and a quadrangular tower. These are the remains of the old town of Léaz, present on this site until the end of the sixteenth century and the castle, mentioned in the texts from the twelfth century.
Le village 01200 Léaz
Lat : 46.0984
Lng : 5.88404
0 m