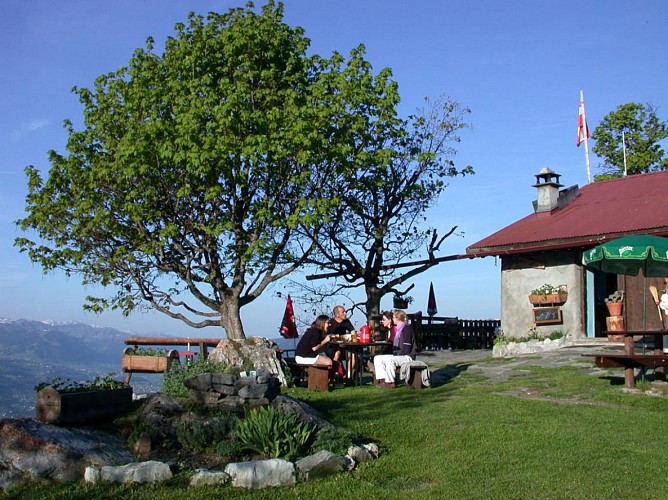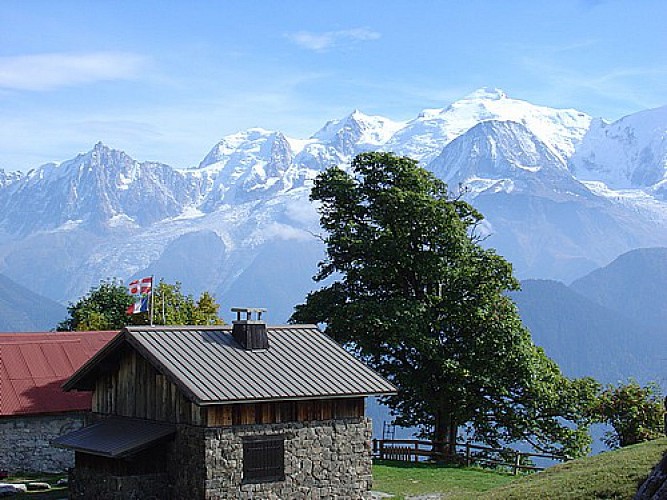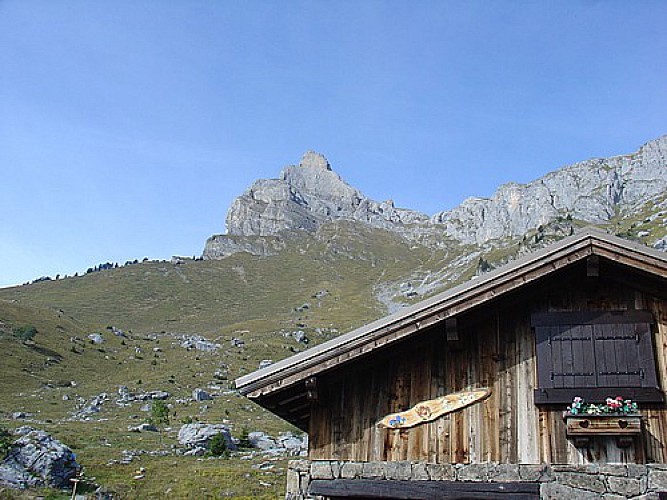 Varan mountain refuge hut
Under the majestic Aiguille de Varan, this refuge overlooks the Arve valley. It faces a stupendous panorama: the Mont Blanc and the Aravis mountains. Easily accessible, it is open for gourmet breaks and cozy nights.
The refuge is part of a group of mountain chalets on the side of the Aiguille de Varan at 2544m. Located in Passy, on the south side of the Fiz mountain range opposite Mont Blanc, dominating the Arve valley by some 1000m.

This is the starting point for many hikes but also a
a great place to stay over (Unique view of the Mont Blanc).
40 minutes from the refuge, you can climb the recent climbing routes in the sector of Barmerousse.
This site is also renowned to paragliders. There are 3 take-off zones nearby, the nearest less than 5 minutes away. There are 3 different
landing points 1000m below.
In good weather, dinners can be taken outside on the terrace watching the sunset. Breakfast can be enjoyed at sunrise.

Sustainable Development:
- Waste re-cycling
- Solar pannels
- Used water recuerpation.
7 informations complémentaires
Open period
From 01/05 to 30/09.
Tips
Summits : Aiguille de Varan - Aiguilles Rouges - Aiguille de Barmerousse
Daily hikes: Tour de Frioland
Hikes over several days : Tour du Mont Blanc - Tour des Fiz
Itineraries from the refuge hut:
Le Refuge de Platé, ia the Col de Barmerousse : 4h30, 775m elevation.
Aiguille de Varan (2544m) : 3h30, 924m elevation (difficult passages).
Aiguille Rouge (2636m) : 3h30, 1016m elevation(difficult passages).
Pointe de Barmerousse (2210m) : 2h30, 590m elevation
Via Ferrata de Curalla.
Ranking and capacity
Refuge
Capacity : 30 people
Updated by
Office de Tourisme de Passy - 28/11/2019

Price(s)
Night: 14 €
Child rate per night: 10 €
Half board (pp): 43 €
Half-board (child): 30 €
Picnic to take away: 10 €.

Free entry for children < -5 years.