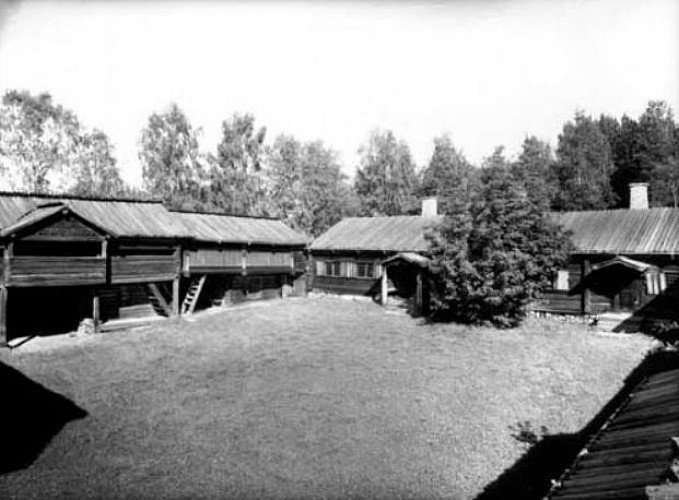 Lillhärdal farm - the history of the buildings
Lillhärdal farm – the history of the buildings

The farm consists of a range of buildings from various parts of Härjedalen put together to illustrate the layout of a farm typical of its period and region. The main dwelling-house comes from the farm 'Östmon' in Kyrkbyn in Lillhärdal and was built in circa 1700, whence we have derived the history of the farm. Besides the inner yard, which could be closed and provide protection, the farm also includes a range of buildings outside the quadrangle. Box-built farms of this kind were quite common among the richer farmers in the region up to the mid-1800s. The farms were usually situated on high ground to avoid the harvest being ruined by frost, in particular the essential harvest of barley. 

Standing on the inner yard, facing the dwelling-house, the other buildings are as follow: The building to the left closest to the dwelling-house is a loft cabin from Kyrkbyn in Älvros, built in 1593. In the same row is a loft cabin from the farm Skogen in Kyrkbyn in Lillhärdal built in 1638. In the row opposite the dwelling-house the first to see is the so-called Prästloftet from Åsen in Kyrkbyn in Lillhärdal built before 1645, followed by the stable from 1723 which used to stand at Remmet in Sveg. The stable has windows, a luxury at the time. In the right row nearest the stable is a 17th century threshing floor from the farm Grubban in Kyrkbyn, Lillhärdal.  Thereafter follows a cabin with a boathouse as well as a loft shed, both of the same age but without details of their original location.

Outside the inner yard is the cowshed ('fjöset') with a baking cabin and fodder shed. Here is also a row of small barns for leaves or hay along with a tool shed with its open long side. Inflammable buildings were always placed outside the quadrangle for safety reasons. Farther away the farms would have one or more shielings where the farm animals would graze in the summer. 
Infos techniques
Lat : 63.1887687
Lng : 14.6331085
0 m