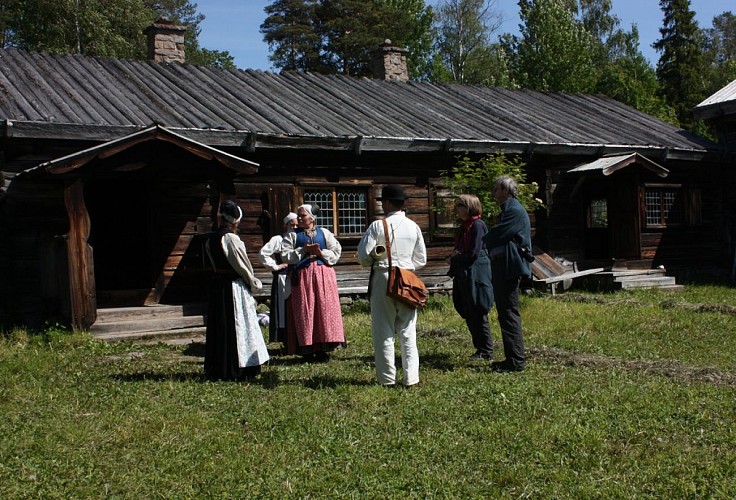 Lillhärdal farm 1785

The farm consists of buildings from different parts of Härjedalen and serves to illustrate how a large farm typical of the period and the region, with quadrangle layout looked like in those days. The main house originates from the farm 'Östmon' in Kyrkbyn in Lillhärdal and was built circa 1700 and it is around this that we have construed the history.

We have stopped the clock in year 1785, when residing here are farmer Kjell Herdell with his wife Christina and their four children: Karin 10 years, Rolf 8 years, Kerstin 2 years, and new-born Erik. Christina was born at the farm and her parents Rolf Halvarsson and Karin Jonasdotter also reside at the farm. In the county sheriff's chamber ('länsmanskammaren') is a family tree on the wall bearing the family members' initials. In addition to the family, just like at all the other farms, here also live maids and farmhands.

Kjell Herdell is one of the most prosperous farmers in the village and also serves as the parish sheriff. His job entails acting local policeman and prosecutor and includes tasks as collecting taxes, organising road maintenance, etc.  

In 1785 most of the people in Härjedalen live in self-subsistent households. The main grain cultivated is barley but the harvests often fail with ensuing starvation. Hence the cattle provide the basis for the economy. A prosperous farm such as this one would have 2-3 horses, 10 cows, a few calves and young cattle, twenty or so goats and sheep. The household produces virtually everything needed and buy almost nothing. To succeed in this self-subsistence it is necessary to complement production with side activities such as fishing, hunting and trading in the winter.   

Lillhärdal is an isolated village and the roads are in poor shape. On Sundays the people get together in church to listen to tidings and notices, and to exchange news on the church green. Life is conducted in accordance with Martin Luther's house tableau and the husband is the master of the household. He was also responsible for ensuring that everyone could read and were familiar with the contents of the Small Catechism. Each year the priest would hold the parish catechetical hearing.

Further back in time were many years of public unrest and wars and Jämtland was often exposed to invading armies. At this time peace has reigned for a while and the king ruling Sweden and Finland is Gustaf III. 
Infos techniques
Lat : 63.1888364
Lng : 14.63313
0 m