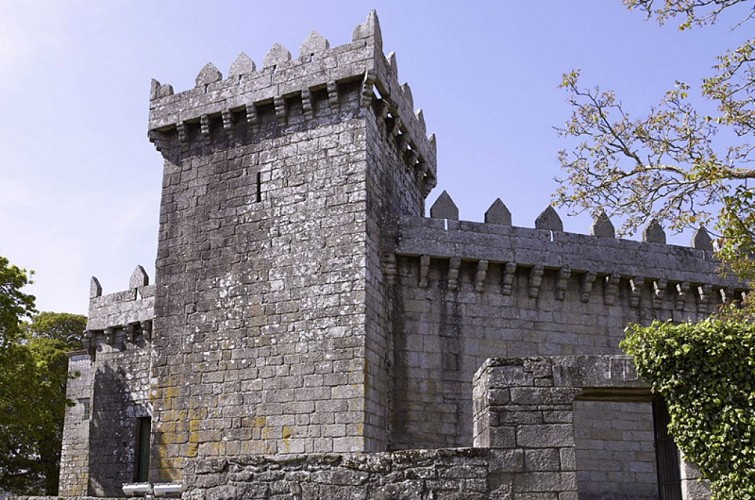 ♫ LISTEN TO THE AUDIO

The entrance to the castle is enclosed by a narrow stone bridge, which in the Middle Ages would have had at its center a small wooden drawbridge and a moat between 6 and 8 meters wide, in order to safeguard the fortress from possible enemy attacks. This defensive system, combined with a barbican—a wall or an embankment—near the wall, and of lesser height, was the next element in the fortress's protection, arrived at upon crossing a moat that might be covered with water.

The current walls of the fortress, including its four towers, stem from the reconstruction driven by the Compostelan Archbishop Alonso II of Fonseca in 1472,  in the context of repairs due to damage caused by the Irmandiño uprising. The work was carried out by Basque masons who used the losers of the revolt as forced labor. In terms of construction, it is worth noting that not all of the fortress walls are stone, and there is a remarkable reuse of blocks (the variations in the size and color of the stones are evident), as well as     irregular masonry and carved pieces. These changes in materials correspond to a later period, the Modern Age, when the wardens or merinos, or judges (who, appointed by the Lord of the castle, were responsible for the fortress), sought to adapt this space to their residential needs and palatial tastes.

Other important phases in the restoration of the walls and the castle were carried out by the Martelo family in the nineteenth century for use as a summer residence, and later by the Provincial Council of A Coruña, in the 1980s, converting it into a public space.
Infos techniques
Lat : 43.1111
Lng : -9.03132
0 m