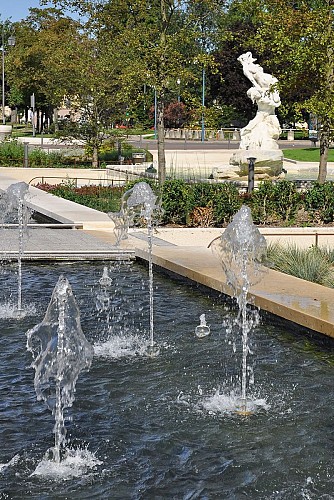 A place steeped in history...

Located at the foot of the Prefecture and the Hôtel du Département, Place de la Libération is a place steeped in history.

But it is also a pivotal place in Troyes since it is at the junction of the two parts of the city, where it is the link between what is commonly called here "the body and the head of the Champagne cork".

This square was built on the site of a former cemetery and a double church which was razed to the ground at the end of the 18th century to make way for an ephemeral grain market.

Renamed several times, it has not finished with its successive transformations, since the square (laid out in 1912, is decorated with a white marble group of Suchetet "le rapt" - a newt removing a naiad) - with provincial charm - which frequented the Trojans throughout the last century - has given way to an urban park, with a resolutely modern design.

The garden covers an underground car park of helical shape, which has a particularity to be discovered! Its 7 levels are decorated with 150 m2 of contemporary stained glass windows.

Like a wink to the nearby Saint-Urbain basilica?
Technical information
Place de la Libération
10000 Troyes
Lat : 48.2976454
Lng : 4.0775146
0 m