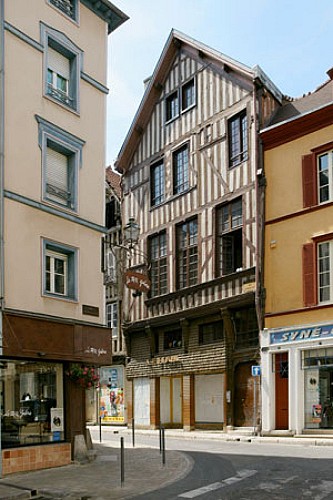 The Élection was a royal commission that supervised tax collection, distribution and, more generally, financial and police matters. Created in 1356, the commission originally comprised elected officials and then, starting in 1372, its members were appointed by the King. It was phased out at the Revolution. In Troyes, the Élection's jurisdiction covered the entire diocese.

The Élection sat in this house that dates from 1628. Louis XIII acquired it in 1754, before moving to the Palais des Comtes.

The Hôtel de l'Election surely dates fromthe start of the 15th century. It was rebuilt after the 1524 fire by Michel Drouot, the owner at the time. He was a wealthy merchant who later became mayor of Troyes, from 1536 to 1538. The half-timbered house with a beautiful corbelled design and a broad gable with a canopy was flanked at the back by a high turret stairway that was destroyed by fire in 1903. It is topped by a remarkable
Renaissance groin on which a wind vane was installed, which has been preserved by the Musées de Troyes.
Technical information
Rue de la Monnaie
10000 Troyes
Lat : 48.2958382
Lng : 4.0710999
0 m