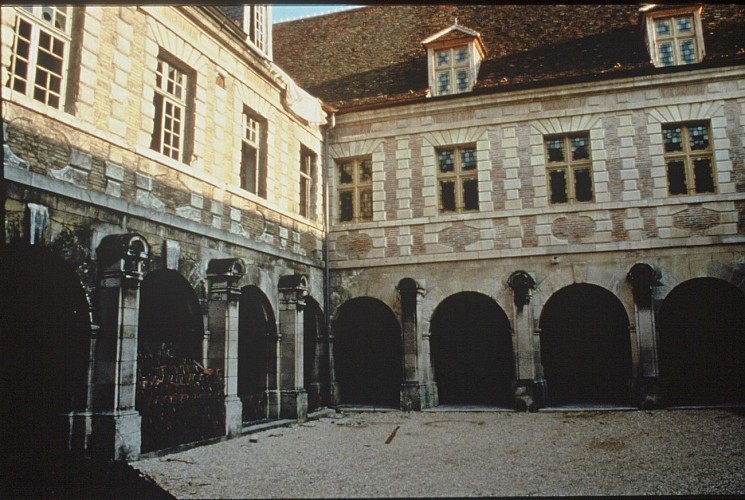 Ancienne abbaye Saint-Martin-Ès-Aires - E.S.A.A
In the first few centuries of the Christian era, this site was initially a Gallo-Roman and then a Merovingian cemetery. In the 5th century, there was also an oratory dedicated to Notre-Dame. Not far from there, Saint Loup, who saved Troyes from Attila the Hun, founded a school. He was buried here in 479 in a chapel that soon became a site for pilgrims.

In the 9th century, after the destruction of Troyes by the Normans, the abbey was reconstructed inside the city's walls, on the site of the present-day Saint-Loup Museum.

A new abbey was founded here in 1104 and dedicated to Saint Martin, Bishop of Tours (301-371), who, according to legend, gave half of his coat to a beggar in wintertime. The abbey is called «ès-Aires», which means «in the fields», as it was located outside the city until the construction of the ramparts in the 13th century. The ramparts were built along of the present-day boulevard Henri-Barbusse. Two surviving arches from the chapter house of this abbey were uncovered in 1990, below present ground level.

In 1656, Abbot Gilbert de Choiseul and Vicar Daniel de Ryane began rebuilding the abbey and the project continued until 1759. These are the buildings visitors see today and whose restoration was begun in 1989. They are occupied by the École Supérieure d'Arts Appliqués (advanced school of design and applied arts).
Infos techniques
Rue Saint Martin-ès-Aires
10000 Troyes
Lat : 48.3023229
Lng : 4.0849137
0 m