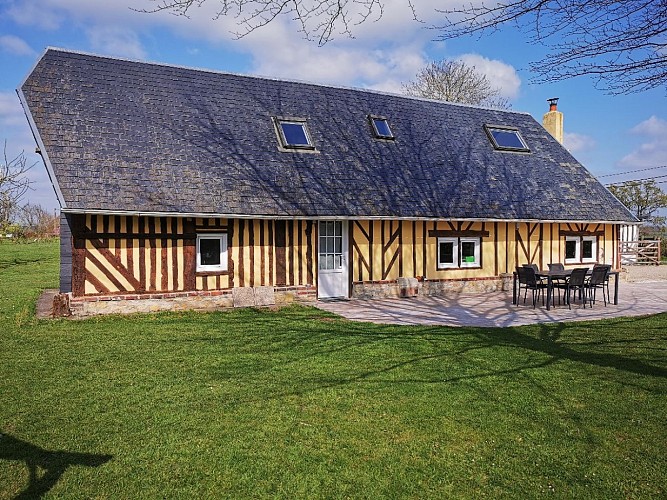 La Bergerie is located in the middle of a flowered and wooded garden, in a very quiet place. It is a timber-framed house with a 16th century façade. Its interior has been entirely renovated and is warm and comfortable with its fireplace (log stove). The gite is located in the Auge country, in the middle of a preserved and bucolic nature (bocages, meadows, apple orchards, stud farms), on the road of the cider of Cambremer and the beaches of the Côte Fleurie. Outdoor games for children. Free access to the meadow and the wood adjacent to the property. Independent house. First floor : living room with fireplace, sitting area (sofa), kitchen open on the living room, 1 bedroom (1 double bed 140), bathroom, WC. Floor : 2 bedrooms (1 double bed, 2 single beds), bathroom with WC. Electric heating. Washing machine. Dishwasher. TV. DVD. Wifi connection. Baby bed. Enclosed garden with terrace and garden furniture.

Measures in place for visitors:

The fight against Covid19 concerns us all.

We have therefore adapted the reception and cleaning procedures of our guest rooms and our gite La Bergerie to welcome you in the best security conditions and offer you a relaxing and warm stay.

EVERYTHING STARTS OF COURSE WITH THE ESSENTIALS THAT YOU KNOW WELL:
respect the barrier gestures
no hugging or handshaking
wash your hands often, with soap of course, and if necessary with hydroalcoholic solution. You will find it in the rooms and common areas
respect a little physical distance, at least 1M
avoid touching your face
sneeze into your elbow and use disposable tissues

wear a mask in common areas and when going out in public places

AND SPECIFIC ADAPTATIONS FOR A SERENE STAY IN GUEST ROOMS OR GITES:

FROM YOUR ARRIVAL TO YOUR DEPARTURE:

Please respect the timetable: arrivals 5:30 pm to 7:30 pm, departure 11 am. If we are already accommodating other people, please wait outside if possible, and the weather is always nice in Cambremer. Leave your luggage outside the common room
Wear a mask. If you have made one, we can compare our techniques.... if you don't have one, you can find some in Cambremer
Wash your hands before and after our meetings, activities on site or outside
The key will be in the room when you arrive, leave it there when you leave.
The bedding is still as comfortable as ever, but we had to remove some accessories such as knick-knacks, cushions and magazines
The breakfast room has also been cleaned up, you will have to go to the garage to play table football....
1 room per table, 3 tables maximum at the same time in the room,
No more buffet but a 4* service on tray
We will give you a choice sheet for breakfast to make your mouth water in advance so that everything is ready. You will also have to choose a time, and if the weather allows it, you can have lunch outside
If you need brochures, dishes, tea, coffee, etc., please do not use the cupboards, we are at your service
Any brochures you have consulted must be taken away or quarantined. We will give you a plastic bag to leave them in when you leave.
Possible balance of payment online or at the bar, with mask

and to help us:
Air out the room during your stay and when you leave
We will limit the number of times you come into your room during your stay, so please let us know if you would like us to clean your room while you are away. In this case, thank you for tidying up your belongings as well as possible.
Leave used towels in the bathtub or shower when you leave
Leave the hair dryer out of the drawer if you have used it
Leave pillows on the bed if you have used them
Don't leave anything lying around, throw in the garbage what you don't take with you

A REINFORCED CLEANING PROTOCOL
In addition to the classic and already very thorough cleaning, we will proceed to the disinfection of the contact areas in the rooms and common parts according to the recommendations of the National Federation of the Institutional Organizations of Tourism, Gites de France and all the others: handles, switches, railings, taps, buttons of water flush, chairs, tables, deckchair, pots, cups, glasses, etc... etc... etc..
The clean sheets and towels will be installed after the complete cleaning and an airing time
The cleaning means are dedicated to each room and disinfected after each use
and a lot of "elbow grease"..
If you want some good ideas for cleaning your home, we will gladly give you a copy of the available guides!
Technical information
Lat : 49.168132
Lng : 0.021006
0 m