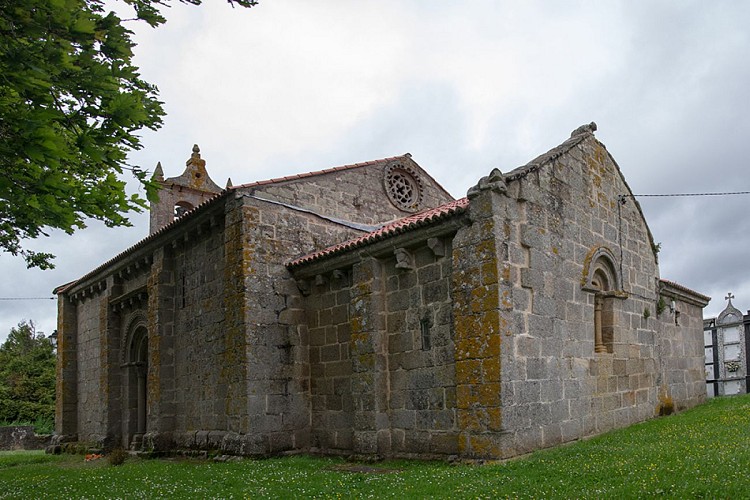 TIOBRE AND BETANZOS O VELLO
We are now by the church of Saint Martiño of Tiobre, a Romanesque temple from the 12th century, but with earlier origins. On the exterior of the southern façade there is a tympanum decorated by a cruciform interlace and corbels. In its vicinity was the sanctuary of Saint Paio, in which a pilgrimage used to be celebrated during the month of August. 

At a short distance from the temple of Saint Martiño of Tiobre is the nucleus of Betanzos O Vello, the area which is considered to be the origin of the city of Betanzos, later this city would be founded during the reign of King Alfonso the 9th in 1219 when he permitted the inhabitants that lived by the church of Tiobre to settle in fort of Untia, which was at an elevated location between two rivers. The place name "O Vello" refers to this primitive location which, it is said, could be from the pre-Roman Celtic Castro culture.

Part of the reasoning for this relocation could be the attacks from the amphibious attacks from the Normans that had occurred. This change could have been done to escape the attacks and in search of a safer and more easily defended location, as was the fort of Untia, situated on an elevation between two rivers.

Betanzos O Vello is now a small rural town that lies at the end of the road that descends from the parish temple of Tiobre towards the coastal inlet and city of Betanzos. This town has a complex road system and conserves patrimonial elements that distinguish it from others in the area, such as its layout, its history and also its ethnographic patrimony.