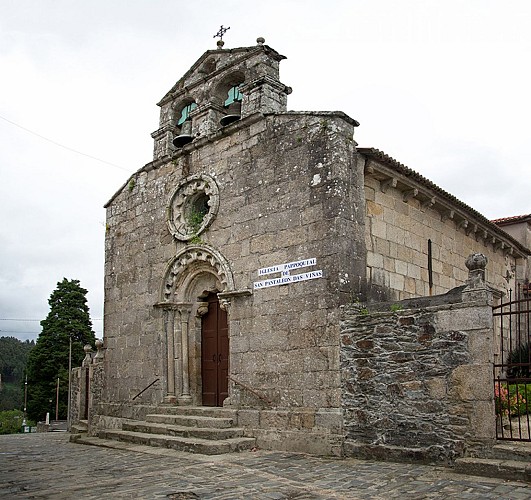 SAINT PANTALEÓN OF THE VINEYARDS
We can, at this point, briefly leave the road in order to visit the church of Saint Pantaleón of the Vineyards. Then we will continue towards the village of Trasmil, where we will be once again on the road.

Only the western façade of its roman origins remains, the rest was reconstructed in later years. The façade is wider than the nave due to the presence of buttresses in the sides. It has a half arch door and, above it, an oculus that also later had its lower half modified. The door has two archivolts supported by columns and capitals with a different style to others from the roman era in this county, more stylised and flattened. In some respects the modelling calls to mind the school of master Mateo, as one of the small arches that decorate the archivolts. The tympanum, supported by two decorative stones that depict human heads, has no decoration itself, with the exception of two small arches on the lower end. The date of 1200AD is given as the possible beginning of its construction.

On the other side of the road is the country estate of Montecelo or of Saint Pantaleón. The current building may be from the 18th century but its origin is from the concession of the property of Saint Pantaleón in the 15th century, along with its criminal and civil jurisdiction to the Díaz de Andrade family. Country home and church have both been in one place to indulge the amusement of Betanzos.
Infos techniques
Lat : 43.3257314
Lng : -8.191883
0 m