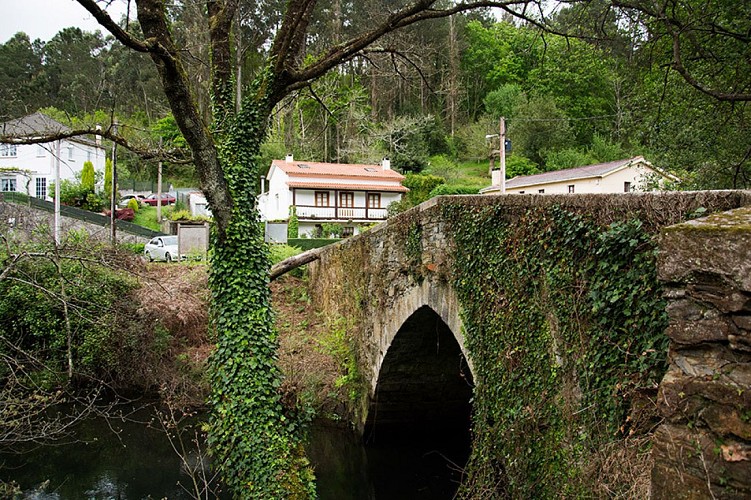 LAMBRE BRIDGE: THE LEGEND OF ROXÍN ROXAL
We now cross the Lambre Bridge, a medieval crossing with an old legend.

Roxín Roxal was the servant the most esteemed servant of Nuno Freire of Andrade, lord of the lands of the Eume River. As proof of this respect, Nuno Freire of Andrade had given him a silver dagger. Roxín Roxal was regularly allowed to accompany Teresa, the daughter of Sir Nuno and both of them ended up falling in love. The father found out about the relationship and decided to marry her to a knight, Henrique of Osorio, separating the young servant from his daughter and exiling him.

Around that time, news arrived to Pontedueme of a fierce boar that was destroying the peasants' crops. Sir Nuno organised a hunt in order to bring down the beast. Sir Henrique invited Teresa to go with him on the hunt so that he could demonstrate his valour. Dogs and servants scoured the countryside until the boar ran out of hiding, crossing the Lambre Bridge. Here was Henrique with his bow and he shot an arrow at the animal which only wounded it superficially. Sir Henrique threw himself into the riven in order to escape the beast which then went for Teresa. When Sir Nuno and his entourage, who came chasing the animal, arrived at the bridge, they found the cadaver of Lady Teresa, but not the animal. Days later, the body of the boar appeared over the bridge with the silver dagger cleaved into its neck, the dagger than Sir Nuno had gifted to Roxín Roxal.
Lat : 43.3294
Lng : -8.18861
0 m