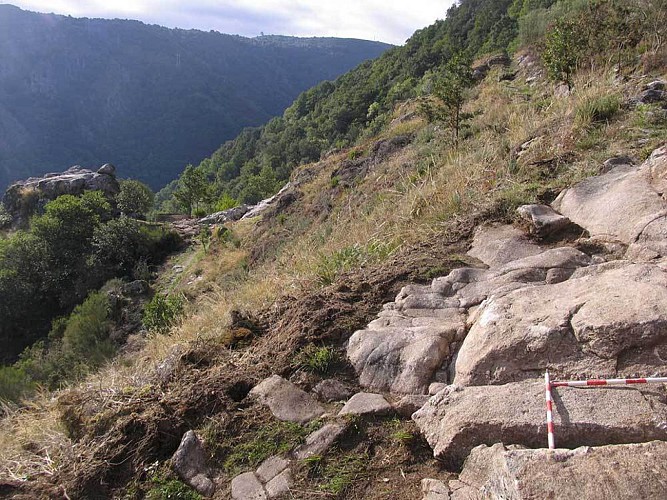 The old people of the area say that "a man got into that tomb with the shape of a person, and then he almost couldn't get out". An anecdote as real as its protagonists, who talk about the existence or similar burials nearby San Vitor. It is said that those similar burials were destroyed when new stone was needed for the construction of the new cemetery in San Lourenzo.

Here you can find high and pointed granite outcrops, which gives the name to this place. If you surround these stones you'll be able to catch sight of the high rock of San Vitor for the first time.

From this point, the views of San Lourenzo and the slopes of San Miguel are no less beautiful, overlooking the junction of the Mao river with Sil. It is said that in San Miguel, in the middle of the vineyards which sit there today, there was an ancient village, with its chapel and with sarcophagi "similar to San Vitor's". The ruins are still visible today, and oral references place them in the contour of the Mao river.

The graves of Padrons are located at the highest point, at the foot of the current path. In 2002 some archaeological works verified the existence of traditional stonework, confirming the stories about the destruction of the sarcophagus. The fact that they didn't find this traditional stonework in San Vitor is due to the poor quality of its granite outcrop, which helped to preserve it .


Technical information
Lat : 42.3745293
Lng : -7.5032168
0 m