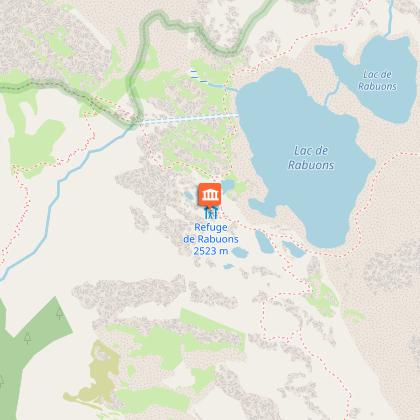 REFUGE DE RABUONS (FFCAM)
The most mountainous site, but less known of the Alpes Maritimes. At the centre of a mineral framework, on the banks of a large lake (3 ha), deep (100 m) a small mountain hut made of stone walls, a step towards interesting crossings,
8 informations complémentaires
Website
refugederabuons.ffcam.fr
Activities around
MOUNTAINEERING: Mount Tenibre - Grand Cimon - Corborant - Roche Rousse
HIKING: Tour of the Grand Cimon - Traverse to mountain hu of Vens - Peak of Chalanchas - Ischiator peak
SKIING: Ténibre - Corborant - Grand Cimon - Ischiator - Traverse to mountain of Vens
+ on sud.alpes-refuges.fr
Opening dates informations and guarded period
From mid-June to mid-September.
Foreign languages spoken: English, Spanish
Booking E-mail
refugederabuons@ffcam.fr
Nearest car parks
Parking at the Park House of St Etienne de Tinée Accessible in RandoBus: see the "Tourism information" tab
long description
On the other side of the refuge, on the terrace, the visitor can also enjoy the view over the Valley of the Tinée, Auron, and the surrounding peaks.
Sleeping Overview
Cold shower
Winter hut equipment
Wood, cover, dishes, cooker gas stove. No water