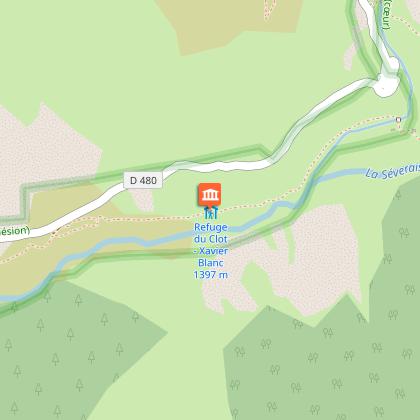 REFUGE DU CLOT - XAVIER BLANC (FFCAM)
It is at the end of the Valley of Valgaudemar, in a natural setting of great wealth is the refuge of the Clot.
6 informations complémentaires
Booking E-mail
chaletduclot@ffcam.fr
Activities around
HIKING: Stage of the GR54 (towers of Oisans and the old chaillol) - Lauzon - shelters of Chabourneou Lake, Vallonpierre and the loft - the REFUGE of relaxing, the highest REFUGE of Valgaudemar - Hat - access very aesthetic from the hamlet of the village climbing: Cliff School of Surette (30 minutes) mountain bike: very technical (French Federation of cycling) route joining the chapel-Valgaudemar SKI touring : spring, needle of Morges (Tower or Summit) since Sin tapes: permit required
Opening dates informations and guarded period
Early June to mid-September
Website
chaletduclot.ffcam.fr
long description
Built not far from the torrent of the Séveraisse, this place invites as well to relax at the water's edge or the prairies flowered in the beginning for many hikes.
Hiking day or over several days: tour of the old Chaillol, Valgaudemar, GR54 tour...
Donkey, chickens, ducks are the part for the pleasure of young and old.
The atmosphere is friendly to the sound of the accordion, evenings of outdoor projection.
We are committed to serve local cuisine and made home.
Nearest car parks
Summer: parking at the Rif of the Sap or a little further on the road of the Gioberney winter: paking at the exit of the chapel in Valgaudemar