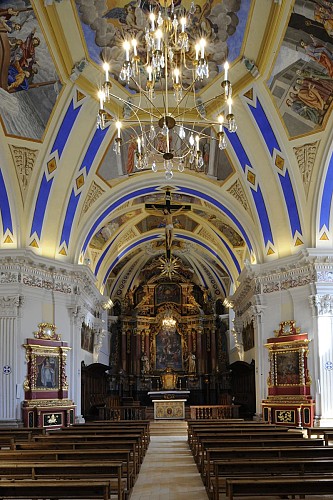 Baroque's church of Saint Nicolas
The church of Saint-Nicolas is one of the crown jewels of Alpine Baroque art.
It was built during the first half of the 18th Century using funds provided by expatriates and colporteurs going to the German Low Country.
Rebuilt in the early eighteenth century

She is one of the jewels of Alpine Baroque art, characterized by a sober exterior and bright interior colors and recognized for being the « bleu de Saint-Nicolas » adorning the vaults painted in the nineteenth century.

The Baroque interior decoration dates from the eighteenth century and consists of paintings with a frieze of cherubs, of consecration crosses, the railing of the grandstand, tubal eye pillars and altarpieces.

This decoration is enriched by neoclassical nineteenth Avondo paintings that illuminate the vault. Miracles of St. Nicolas, patron saint of the church, are represented at the dome.

Tables and other decorative elements largely come from the Germanic countries; they were offered by pedlars and expatriates in testimony of their religious fervor and gratitude.