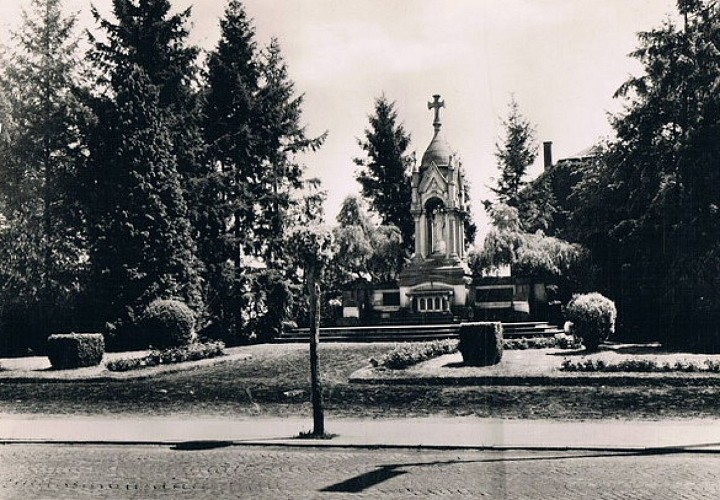 On 22nd August 1914, when the German shells were falling on the French ambulance services established at St Joseph College, Dean Cawet, who then became Bishop of Namur, made a vow to erect a monument dedicated to the Sacred Heart of Jesus. The town of Virton was spared from the massacres: only 4 Virton people were shot at Etalle.

Inaugurated in 1929, the statue represents Christ the Protector, his head inclined towards the crowd, his hands held out in a sign of protection. Two bronze bas-reliefs each form a triptych. On the left, the village of Ethe in flames, two bodies, of a man and child, and four German soldiers jeering. In the centre, the terrified Virton people going towards the Sacred Heart. On the right, Dean Cawet making the vow. The second triptych represents the execution of the vow. On the left, the Committee formed at the time offering the monument to the Sacred Heart. In the centre, the pious crowd taking part in acts of grace, with flowers; on the right, a veritable symbol of Peace and Liberty, with Virton Church, avenue Bouvier, the plough, the flocks and the silhouette of Avioth Basilica.

The marble statue was created in Carrare by the artist Oméro Ambrosini. The model came from the Rombaux Company at Ecaussines. The plans for the whole thing were drawn up by Léon Servais, a Virton architect. The bas-reliefs were made by the House of Rombaux, according to models created by Jules Vits, a sculptor from Melle. The Minne brothers, foundrymen at Gand, cast them in bronze.
Lat : 49.5657
Lng : 5.52725
0 m