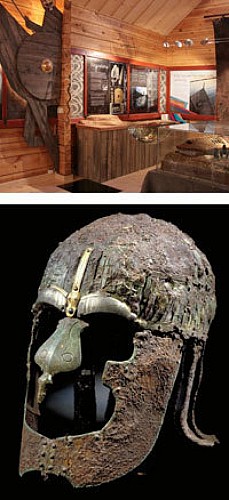 Vendel, which is located about 40 km north of Uppsala, holds a special position in Sweden's prehistory. The place has given its name to an entire epoch, the period from 550 to 800 AD, the Vendel Period. With its strategic location, with connections via lake Vendelsjön and the river Vendelån south to the river Fyrisån and Lake Mälaren and Gamla Uppsala, the site has been a focal point for contact and trade. Vendel's most famous ancient monuments are Ottar's Mound and the boat grave field by the church.

In 1881, fourteen graves at Vendel Church were examined, twelve of which were boat burials, containing lavish grave goods. The graves could be dated from 550 to 1050 AD. The finds are among the richest ever discovered from the period, and in addition to weaponry such as swords, spears, shields and helmets, included imported glass, household objects and pets. The grave finds bear witness to power, wealth and long-distance trade.

The graves at Vendel church are just one part of a huge ancient monument environment, with a large number of graves that lie along the ridge and among the rolling hills of farmland. At Husby, three kilometres south of Vendel church, there is a grave field with 50 mounds. However, it is dominated by the nearly 40-metre long and 6-metre high Ottar's Mound.

 
Infos techniques
Lat : 60.166667
Lng : 17.6
0 m