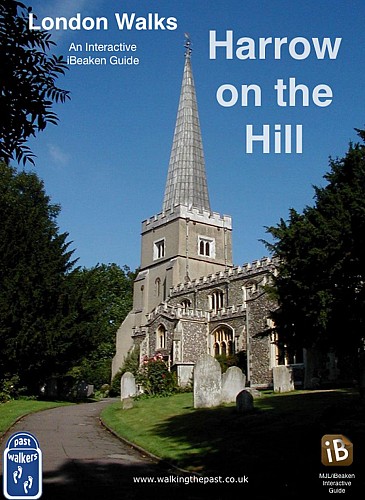 The Brooding Hill

This Autumn's title list from MJL Digital Publications includes this fascinating walk around one of London's highest hills.

Once a thriving town on the edge of nineteenth century London, Harrow on the Hill had a High Street full of shops and a centre where the Borough was administered, with Council offices and a Fire Station. The famous school clustered around St Mary's parish church, dating back to Saxon times and the hill was surrounded by farms and small villages.

As London reached out along the Metropolitan Railway, so beloved of the poet John Betjman, the hill lost its primacy and the Borough shifted downhill leaving the hill to the School and a changing population. Shops, pubs, offices and services gave way to restaurants, cafes and a fading gentility.

Today you can follow this illustrated walk and see where Lord Byron composed his first poetry and Winston Churchill survived his school days. There are relics of its former glory all around and surprises on every street from the 'lost' magistrates court - the Pye House - to the site of the first motor car accident in Britain. 

Each important feature is illustrated with an iBeaken with internet 'portals', images and video files linked in a 'cluster' that can be viewed on any smart device in the format you are now seeing in this advert.

Download this walk from our shop at www.walkingthepast.com for a unique reading and viewing experience.

 
Infos techniques
Lat : 51.5722672
Lng : -0.3380687
0 m