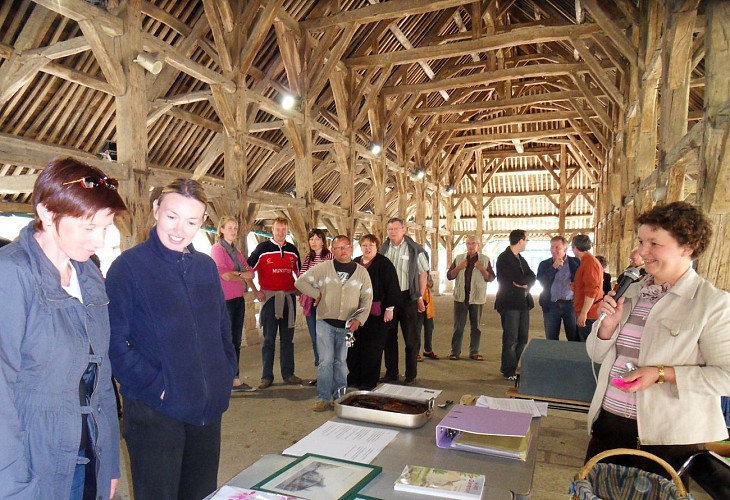 Credit : Pays Touristique Vannes-Lanvaux
Located on the former town square, this covered market was built in 1552 by Jérôme De Carné, Earl of Cohignac and creator of the fairs held in Questembert. By fate, it was restored in 1675 by a local entrepreneur named Estienne Charpentier (Estienne Carpenter in English). Les Halles were designed to cover, mark off and control trading areas. The marketplace was a great place to mingle and exchange goods. In the past, drapers, rope makers and shoemakers met here to sell their goods. This was the main activity during old country fairs. Traditional handicraft (canvas, wool, fine linens and leather) was very important in Questembert. Craftsmen having the same profession often lived in the same neighbourhood, even on the same street. Therefore, professional relationships were very easy to make. Streets were often named after certain professions, such as rue de la laine (wool street), rue de la tannerie (tannery street), etc.
Les Halles, restored in 1997, have never been used as much as today. It holds a large market on Monday mornings and a market selling regional products on Wednesday evenings as well as flea markets, concerts and other cultural events. Les Halles was classified as a Historical Monument in 1922. Only four "historical" covered wooden markets have survived in the region of Brittany: Questembert and Le Faouët in Morbihan, Plouescat in Finistère and Clisson in Loire-Atlantique.
Now, head towards Place de la Libération, and then Place Gombaud.
On the other side of the roundabout, you will find the headstone of Alain le Grand, King of Brittany.

Technical information
10 Rue Jérôme de Carné
56230 Questembert
Lat : 47.661182
Lng : -2.4538994
0 m