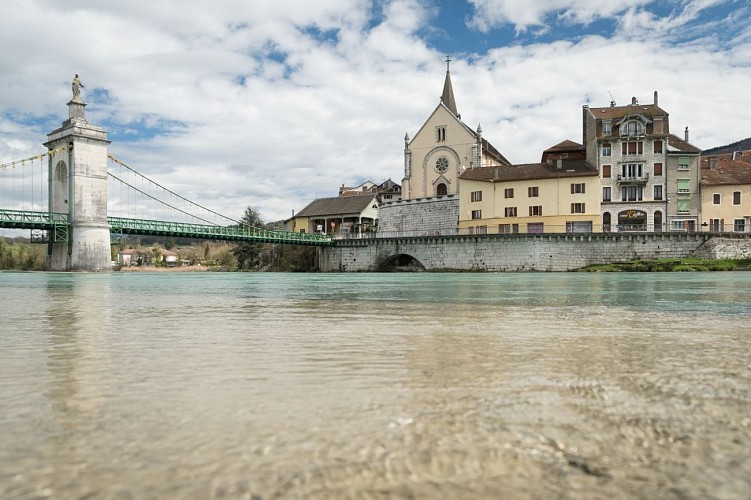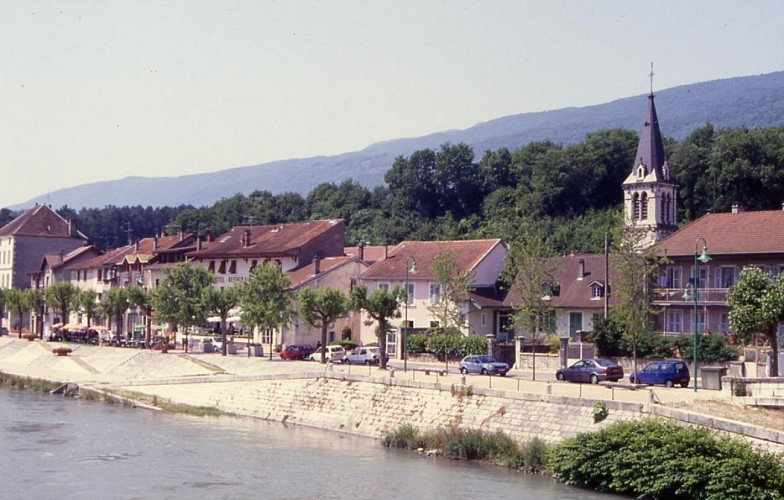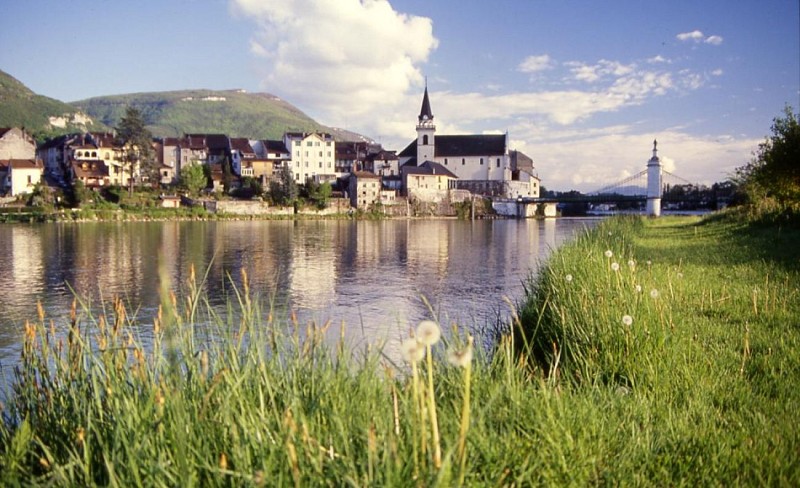 Present since Antiquity on both sides of the Rhône, Seyssel will be alternately Savoyard and French until the Rhône become in 1760 a border. Come discover its history during guided tours organized by Haut-Rhône Tourisme.
The first separation of Seyssel leads to the distinction between Seyssel Savoie (left side) and Seyssel France (right side).

A century later, during the attachment of Savoy to France (1860) and the creation of the Haute-Savoie department, the Rhône beomes then a interdepartmental limit that separates Seyssel Haute-Savoie from Seyssel Ain.
If our villages possess their own church, there are a few one of them that deserve that we take a closer look at. It's the case of the ones of Seyssel Ain and Seyssel Haute-Savoie.

The boating activity, that is very present in the Seyssel area until the 19th century caused an important worship to Mary. We will find inside of those churchs the statues of Notre-Dame du Bon Départ (Seyssel Haute-Savoie) and of Notre-Dame du Pont (Seyssel Ain).
The stained glasses of the Seyssel Ain church are to discover. They show the few episodes of the life of Francis de Sales.

Starting from Middle Age, a wooden bridge is built to allow the crossing of the Rhône at Seyssel. Two bridges link the boroughs of Seyssel: the old bridge dating from the 19th century and the 220m long cable-stayed bridge, commissioned in the late 1980s.

The two Seyssel towns are located at the edge of the Rhône between two mountains: the Grand-Colombier in the Ain department and the Princes' mountain in Haute-Savoie. Both of them offer hiking paths and discoveries in perspective.
Infos techniques
74910 Seyssel
Lat : 45.958549
Lng : 5.832839
0 m