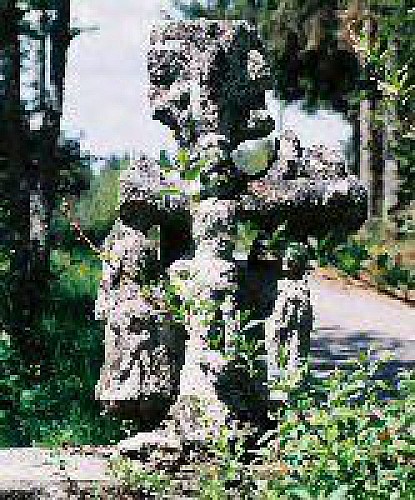 In white granulite, it is a cross with finials bearing six figures including Christ and the Virgin. It is amputated of part of the right spider and its reliefs are altered. On the front, Christ with, on his right, the Virgin, her head crowned with a veil and hands joined and, on his left, a character depicted in a simple manner having the position of Saint John the Evangelist. On the back side, there is a Madonna and Child surrounded by two characters with no recognizable attributes. According to the inhabitants of La Jugie, food was placed near this cross for plague sufferers or lepers who were in Chambon.
Infos techniques
19800 EYREIN
Lat : 45.359223
Lng : 1.887276
0 m
2 informations complémentaires
Informations
Nearby: Rocher de la Rissière, also called "Rocher de la Vierge". Bulky, rounded in shape, topped by a cross. The original Cross, which featured a niche for the statue of the Virgin, was accidentally broken and was replaced by a lower cross. On August 15, a few years ago, a religious procession brought the believers to the rock.