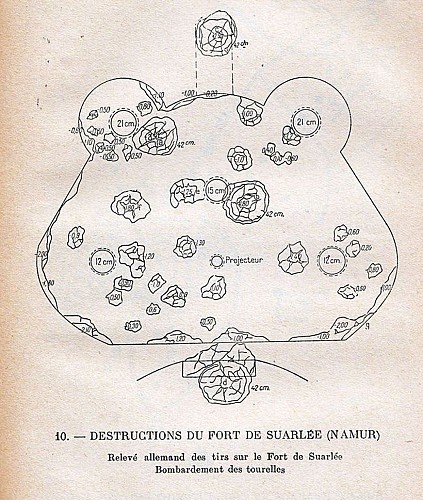 - Suarlée Fort: the arming of the forts

To face up to the enemy, the Namur forts were equipped with cannons and howitzers.

The centrepiece of the fort was a rotating turret with twin 150mm cannons. It needed a team of 25 men and weighed 244 tonnes. Its 39-kilo explosive shell could annihilate any target of a distance of up to 10km. Two 120mm cannons were situated to the rear of the central massif. Their reach was about 6km. Depending on their triangular or quadrilateral shape, the forts possessed one or two 210mm howitzers with a reach of about 8km whose curved trajectory allowed the destruction of hidden objects.

For close defence, 57mm cannons were located in the dugouts to the side.

The forts also had a light tower, which allowed the firing zone to be illuminated, but which also served as an observation post. In actual fact, all the turrets of the central massif, hidden by the infantry banks, shot blind. They were directed by lookouts positioned in the turrets at the corners of the fort and in the armoured light tower.

Because the forts were buried, the superstructures projected very little from the surrounding land, which allowed them to resist direct fire. But in 1914 the Germans largely used vertical-fire howitzers.
Infos techniques
Lat : 50.485675
Lng : 4.8026321
0 m