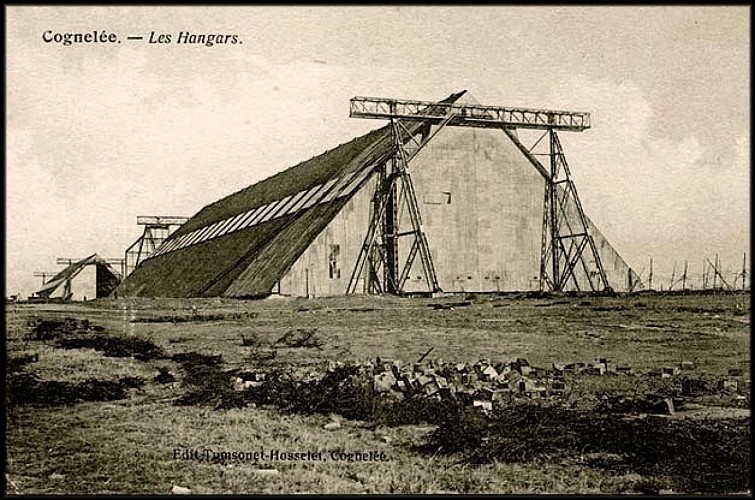 Remains of the Zeppelin Park

Cognelée's zeppelin hangars

At the end of 1916, the Germans established an airbase on a former Belgian aviation site. It became the home port of several zeppelins, the famous "flying cigars" destined for bombing missions to London and Paris or the front line at the Yser. The airbase spread over sixty hectares in the municipalities of Cognelée and Daussoulx.

Zeppelins coming from Germany touched down in Cognelée where the bombs, transported by train, were loaded on board. The zeppelins took off straight away towards their bombing target.

The volume of a standard zeppelin was over 20000m3 and its length varied between 150 and 180 metres. The airship needed a team of 30 men to manoeuvre it. It was propelled by three or four 203 hp motors fuelled by hydrogen or Blau gas reserves contained in the cells built into the metal body, which was composed of duralium or aluminium. The whole thing was covered in a waterproof canvas.

During the 1914-1918 war, zeppelins were mainly used for bombing raids over London and Paris. It was on 21 March 1915 that four zeppelins flew over Paris for the first time and dropped bombs which started fires, demolished houses and seriously injured many people. Thirty raids in one year sowed panic and set fire to and destroyed towns and villages.

So it was that zeppelins, instruments of civilian intimidation, become one of the first manifestations of total air warfare.
Infos techniques
Lat : 50.5152323
Lng : 4.8936648
0 m