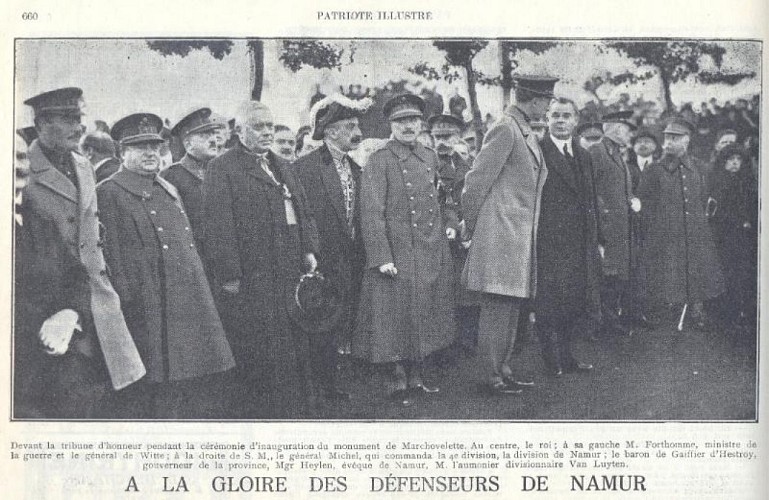 Champion military cemetery

After the battle of Namur, Germans, Belgians and French buried their dead here and there. Victors and vanquished lay side by side at the edge of the road in the desolate countryside. After that, the burial services transported some of the bodies to the temporary cemetery of Boninne, before Champion military cemetery was created.

Built close to Marchovelette fort, the cemetery brought together the graves of 491 Belgian soldiers, of whom 178 were unknown and 32 French fighters. Most of these men died during the battles to defend the stronghold of Namur, and in particular when Marchovelette fort was blown up on 23 August 1914.

Inaugurated in 1923 by King Albert I, it is dedicated to the Franco-Belgian alliance symbolised in the imposing monument situated at the centre of the necropolis: there can be found, side by side, a French soldier, recognisable by his gaiters and his flat-topped cap and a Belgian infantryman wearing a shako. Above these two characters, a kneeling woman lays a wreath of flowers to pay homage to those who died 'for rights and for freedom', as the inscription explains. On the base, two shields depict, on the right, the French cock and, on the left, the Belgian lion. On the steps rests a bronze palm leaf.
Infos techniques
Lat : 50.5046858
Lng : 4.917046
0 m