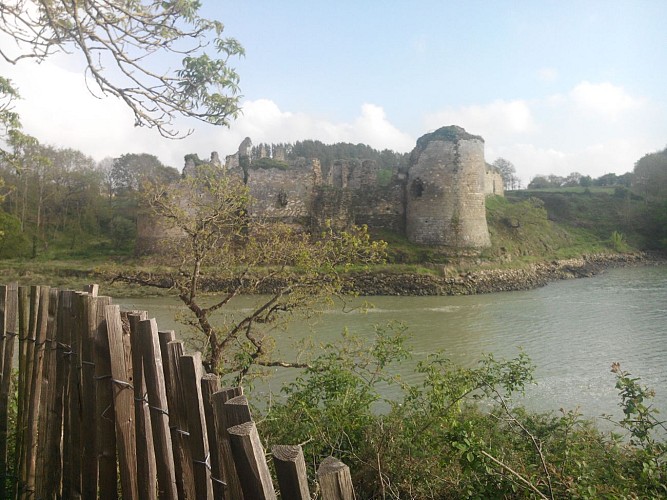 This old castle is built on a rocky peak at the mouth of the ria. A strategic position since the Arguenon River was a border as well as a way inland.
A first fortified house from the 11th and 12th centuries, mostly made out of wood and earth, is replaced in the 13th century by a stone castle, built according to a quadrangular plan with angle towers. The castle's great architectural quality shows the will of the new ducal dynasty to assert its predominance on the area.
The castle is torn down during the Succession War of Brittany (1341-1364); in which Jean de Montfort and Charles de Blois fought over the rule of the duchy. At the end of 14th century and the beginning of the 15th it is rebuilt by Charles de Dinan and acquires its actual plan. In the middle of the 15th century, the castle reaches its peak and becomes a true princely residence. It then belongs to Françoise de Dinan and her husband Gilles de Bretagne, the Duke's brother. Abandoned in the 17th century, it is saved from neglect in 1981 and is being studied and valorised.
The site, which belongs to the Département des Côtes-d'Armor, is a Monument Historique and Espace Naturel Sensible (Historic landmark and Sensitive Natural Area).
This remarkable natural site and the singular history of the ruins make this a privileged walking place.
A heritage note is available to get more information on the castle.

Go back to the castle's parking lot, go down the road on the right towards the port. In the bend, before the fisher houses, go down the stairs on the right, go by the houses' façades on the left. Get back to the street that lead, on the right, to the Gilles de Bretagne square.
Infos techniques
52 Boulevard du Vieux Château
22750 Saint-Jacut-de-la-Mer
Lat : 48.5741794
Lng : -2.2064495
0 m