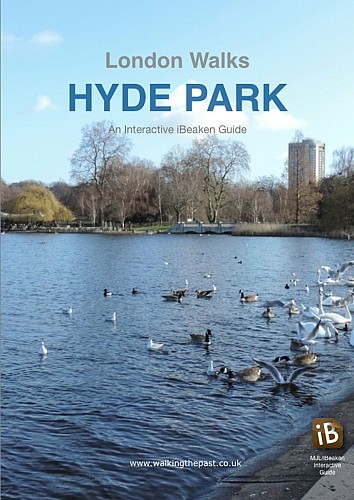 Hyde Park covers over 350 acres and was 'acquired' by Henry VIII in 1536 from the canons of Westminster Abbey. It remained a private hunting ground until James I allowed limited access to 'gentlefolk', and appointed a ranger to look after it. Charles I opened it to the general public in 1637. When the Great Plague struck London in 1665 many citizens fled the City to camp here, in the hope of escaping the disease.

In 1689, William III laid out a drive across its south edge, originally called the "The King's Private Road", now known as Rotten Row, a corruption of the French 'Route de Roi' or King's Road. By the late 1800s, it was used by the wealthy for horseback rides.

The Serpentine was formed by damming the little River Westbourne that flowed through the park. The Serpentine is divided from the Long Water by a bridge designed by George Rennie (1826).

In 1866 Edmund Beales' Reform League marched on Hyde Park where scuffles broke out with the police. Eventually the Prime Minister allowed the meetings to continue unchallenged and since 1872, people have been allowed to speak at Speaker's Corner on any subject.

The Lido was set up by George Lansbury in 1930. It was the venue for Olympic water events in 2012 and is a premier venue for music shows, including the 'Proms in the Park' each year.

This iBeaken walk is brought to you by 'Walking The Past' & MJL Digital Publishers.
Infos techniques
Lat : 51.5072682
Lng : -0.16573029999995
0 m