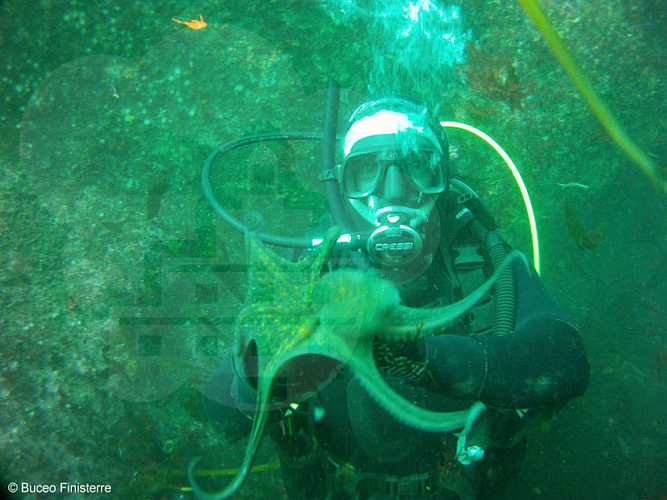 You are in the A Insua area. Here you will find an old road, probably of Roman origin, called "La puerta de Marcos" (Mark's door).

You can continue your route towards Mar de Fóra beach, or you can go down this road, heading south towards the Cape and up the west side of Mount Facho. The trail circles the promontory, with the Atlantic Ocean in the background. You will see several geographical landmarks: Punta de los Oídos, 'O Centolo' island and the magnificent Cabo da Nave, where the Casón cargo ship sank off in 1987, right at the Punta do Castelo, near the Rostro beach, where it stranded at the foot of the Castromiñán fort. Casón's was one of the three major wrecks off the Costa da Morte, together with the Serpent (1887) and the Prestige (2002) ships.

Finisterre is a great place for hiking and watersports. More and more people come here to sail, dive, windsurf and surf in the Rostro and Mar de Fóra beaches.

After a day in the sea, why not enjoy one of Finisterre's many restaurants? Have a taste of local produce, like sea urchins, clams, goose barnacles, a wide variety of fish and of course, Finisterre's most coveted delicacy: the pod razor.

Back in town, take the opportunity to taste Finisterre's fresh seafoods, and if you want to make us all jealous, tell us about your experience on our Facebook page:www.facebook.com/fisterradendeanube.
Infos techniques
Lat : 42.904212707395
Lng : -9.2697165875579
0 m